New York's Premier Plaintiff's Personal Injury Lawyers

New York Personal Injury Lawyers Near You
Gair, Gair, Conason, Rubinowitz, Bloom, Hershenhorn, Steigman & Mackauf has staked its superior reputation on its dedication, sensitivity and commitment to personal service. Based in Manhattan but handling cases throughout New York and New Jersey, our New York injury lawyers are always nearby. Specializing in the most serious and significant personal injury and general negligence cases, which range from construction accidents, car accidents (including truck accidents and bicycle accidents), and train accidents to medical malpractice, clergy abuse and sexual abuse, premises liability, fire and explosions, and complex products liability claims. Representing clients who had had serious injuries including traumatic brain injures and even wrongful death. Its national reputation as "counsel to the profession" makes it the top choice for fellow members of the Bar who seek the best representation possible for those they refer.
SELECTIVITY
In order to maintain the highest standards of quality and service, GGCRBHS&M takes on a maximum of 100 cases a year. This concentrated focus allows for the meticulous trial preparation such substantial cases require and ensures that tort victims receive reasonable and just compensation for the full measure of their damages.
STRUCTURE
Our New York injury lawyers carefully screen each case before assigning it to a team selected for its relevant expertise. The diverse backgrounds of the firm's 18 attorneys—including top-rated trial attorneys, renowned appellate court attorneys, a medical doctor (MD/JD), a registered nurse and an emergency medical technician—give each team a unique perspective for evaluating, preparing and trying its case, aided by state-of-the-art support services and courtroom technology.
AGGRESSIVE TRIAL PREPARATION
In the last 10 years alone, GGCRBHS&M's impressive track record includes more than 400 cases resulting in verdicts or settlements exceeding $1 million. Among the most notable awards were $103 million for a child who sustained brain damage at birth; $90 million for a child with cerebral palsy resulting from birth injuries; $85 million for a pedestrian struck by a bus; $59.2 million for a student who suffered devastating burns in a botched chemistry experiment; $27.5 million for 4 boys who were sexually abused by a religion teacher at a Catholic church, $26 million for a pedestrian struck by a truck; $17 million for a young man disabled after a failed medical diagnosis; $16 million for a construction worker injured when he fell from a scaffold; and $14 million on behalf of tenants injured by a pipe explosion due to Con Edison negligence. While the firm's team of legal and medical experts cannot replace what has been lost through personal injury or death, they can-and do-help restore a life of dignity and financial independence to victims and their families.
#1 NY JURY VERDICT OF 2018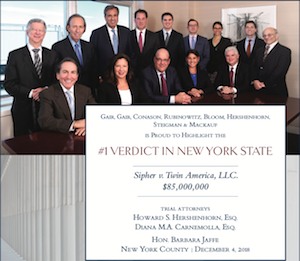 Our firm obtained the highest jury verdict in New York State for a pedestrian who suffered catastrophic injury in a bus accident in downtown Manhattan. After a week trial, a jury awarded a total of $85 million ($45 million for past pain and suffering and $40 million for future pain and suffering) to a man who was struck by a red double decker sightseeing bus. The pedestrian suffered multiple injuries and spent 78 days in the hospital. He sustained 11 surgical operations. At the time of the trial he was walking with an AFO Brace and was still suffering from chronic neurological pain. This verdict is #1 in New York State and #25 nationally for 2018.
NEW YORK'S TOP VERDICT 2017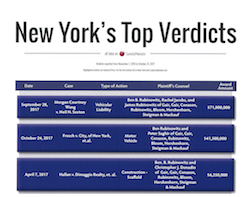 Additionally, in 2017 our New York Personal Injury Lawyers obtained the second and third highest personal injury verdicts listed in New York State. They obtained a $71 million verdict for a student who sustained a spinal cord injury in a car accident and a $41.5 million verdict for the wrongful death of a father in a truck accident. These two verdicts were also the fourth and fifth highest NY verdicts listed in 2017 for all categories of law. Our NY personal injury law firm had a total of six cases listed in New York's Top Verdicts 2017. No other firm in New York had that many cases listed in New York's Top Verdicts 2017.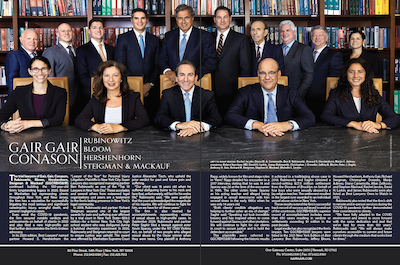 OUR NEW YORK INJURY ATTORNEYS ARE NATIONALLY RECOGNIZED AS AMONG THE BEST IN THE PROFESSION
10 of our Lawyers have been listed in the 2021 Best Lawyers in America as seen in New York Magazine: Marijo Adimey, Diana Carnemolla, Stephen Mackauf, Ben Rubinowitz, Jeffrey Bloom, Anthony Gair, Christopher Donadio, Richard Steigman, Howard Hershenhorn and Allan Zelikovic . Each of these attorneys have achieved multi-million dollar recoveries on behalf of their clients. Additionally 3 of our young lawyers were included in the 2021 "Ones to Watch" list: Rachel Jacobs, David H. Larkin and James Rubinowitz.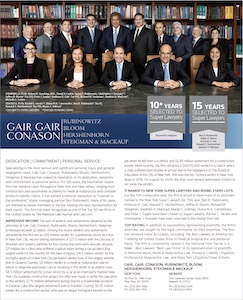 For the fifteen consecutive year, our attorneys have been named New York Super Lawyers. In 2020, 9 of our best New York personal injury attorneys were selected. These are: Ben B. Rubinowitz, Anthony H. Gair, Howard S. Hershenhorn, Jeffrey B. Bloom, Richard M. Steigman, Stephen H. Mackauf, Marijo C. Adimey, Diana M.A. Carnemolla and Peter J. Saghir. Additionally, Rachel Jacobs and Christopher A. Donadio were named Super Lawyers Rising Stars.
Our personal injury law firm was also selected by the National Law Journal and Law.com to be part of the 2014 Top 50 list of America's Elite Trial Lawyers. The 50 personal injury firms selected for this list have been doing the most creative and substantial work on the plaintiff side. To qualify for inclusion, firms had to have scored at least one significant plaintiffs win between Jan. 1, 2013, and June 30, 2014, and possess an impressive track record of wins within the past three to five years. A "significant win" meant prevailing in a bench or jury trial or in a major settlement where the stakes were high-for example, a substantial amount of money was at stake or the outcome could have affected litigation strategy or results in similar cases nationally.
WHAT OUR CLIENTS HAVE TO SAY ABOUT US
Recently two of our personal injury attorneys obtained a $4.6 million verdict for the family of Marylin Dershowitz, a retired Manhattan Supreme Court special referee who died in a bicycle accident. She was fatally struck by a postal tractor trailer truck while she was riding her bike in Manhattan in the company of her husband Nathan Dershowitz of Dershowitz, Eiger & Adelson. After a two-week bench trial the federal government was found 100% liable for the fatal accident. Her family was extremely pleased by the verdict and here is what her husband, Nathan Z. Dershowitz, had to say about our firm:
"I appreciate the work your firm did in securing a just decision in the case involving my wife's tragic death, as a result of the negligence of the United States Postal Service.
Your firm's reputation for aggressive and thorough pre-trial preparation is well-deserved as Peter's pre-trial preparation was superb.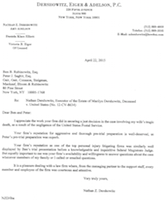 Your firm's reputation as one of the top personal injury litigating firms was similarly well displayed by Ben's trial preparation before a knowledgeable and inquisitive federal Magistrate Judge. But equally important to me was your firm's availability and willingness to answer questions about the case whenever members of my family or I called or emailed questions.
It is a pleasure dealing with a law firm where, from the managing partner to the support staff every member and employee of the firm was courteous and attentive."