NYPD Vehicle Accident Lawyer
Can I Sue the NYPD if I Was Hit by a Police Vehicle?
If you or a loved one were injured in a crash with a NYPD vehicle, you might be entitled to compensation. Contact the NYC car accident attorneys at Gair, Gair, Conason, Rubinowitz, Bloom, Hershenhorn Steigman & Mackauf for a free consultation at (212) 943 1090 as soon as possible as the deadline to file a complaint against the New York Police Department is very short.
How Can I Sue the NYPD After a Crash?
If you were struck by a NYPD vehicle and suffered injury or material damage, you have 90 days to file a Notice of Claim with the City of New York. After that, you have one year and 90 days to file a civil lawsuit against the city.
Do I Need an Attorney if I Was Injured in a Crash With a NYPD Car?
If you have been injured in a collision with an NYPD motor vehicle, the first thing you should do is to consult with an experienced trial attorney. A consultation to discuss your case is usually free. Because of the nature of their activity, police officers have more protection under the law than regular citizens and therefore it is important to pick a top NYC car accident attorney who is familiar with section 1104 of the New York State Vehicle and Traffic Law that regulates authorized emergency vehicles.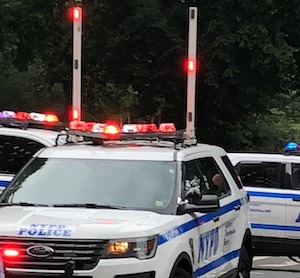 How Much Compensation Can I Obtain if I Was Injured in a Crash With a NYP Vehicle?
Every case is different and depends on multiple factors. The total amount of settlements paid by the city for NYPD crashes between the fiscal years of 2012 and 2021 reached $246.8 million for 1,645 claims. During these years, the average payout by settlement was $150,043. However, depending on the case, the amount can be lower or higher.
What are Some of the Notable Verdicts and Settlements Obtained for Victims Injured in Accidents With NYPD Vehicles?
Last year, the car accident attorneys at Gair, Gair, Conason, Rubinowitz, Bloom, Heshenhorn & Mackauf obtained a $20 million settlement for a 57-year-old man who suffered spinal cord injury after he was struck by an on-duty NYPD patrol vehicle in February 2019. According to plaintiff, the officer who was not driving in an emergency, got distracted while driving and struck the pedestrian. While the victim was still able to walk after the accident, he became incontinent and suffered from sexual dysfunction. The officer claimed that the road was dark and that the victim who was wearing dark clothing should not have been walking on the road but on the sidewalk.
Our attorneys also obtained a $5,000,000 settlement for the wife of a doctor who was fatally struck by a NYPD tow truck while he was riding his bicycle on the Green Way. At the time of the accident, the driver made a right turn onto the greenway and crashed into the cyclist. After the accident, his wife became a Street Safety activist. Below is a video of her story.
Other examples of claims settled in NYPD crashes in recent years by other law firms include a settlement of $2 million was obtained by a pedestrian who suffered traumatic brain injury and completely lost her memory after being struck by an NYPD enforcement vehicle as she was stepping in a crosswalk in Manhattan. The city also settled the case of a Bronx teenager on a dirt bike who got paralyzed after he was struck by a NYPD patrol car for $3 million. Between FY 2012 and FY 2021, a total of 47 NYPD crash lawsuits resulted in settlements above $1 million. These lawsuits usually involved accidents that caused death or catastrophic injury to the victims.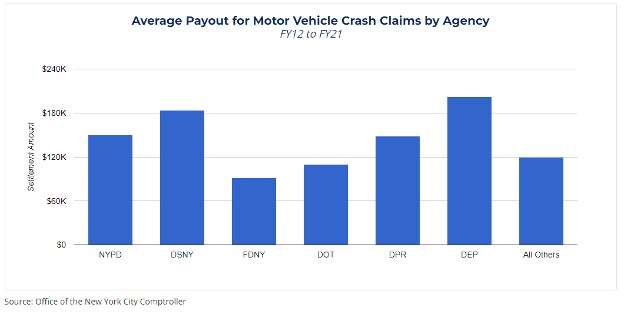 Are NYPD Crashes Resulting in Claims Common?
Yes. NYPD crashes resulting in claims are the most common claims among all crash claims settled by the city's agencies. With the largest amount of city vehicles, NYPD is responsible both for the highest number of crash claims settled by the city and for the largest share of settlements.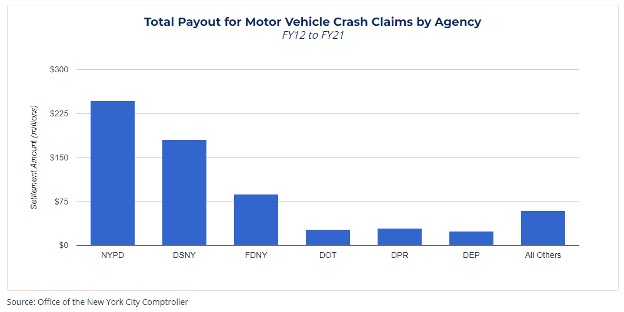 Where Do Crashes Resulting in Claims Against the City Occur?
While accidents involving NYPD vehicles or other NYC agency vehicles can occur anywhere in the city, a large majority of them occur in communities where most residents are Hispanic or Black and where poverty and unemployment are high. The South Bronx, Southeast Queens, Prospect Lefferts Garden, Bedford-Stuyvesant and East New York in Brooklyn as well as East Harlem in Manhattan are the neighborhoods of New York City that have the highest count of city vehicle crashes in the city.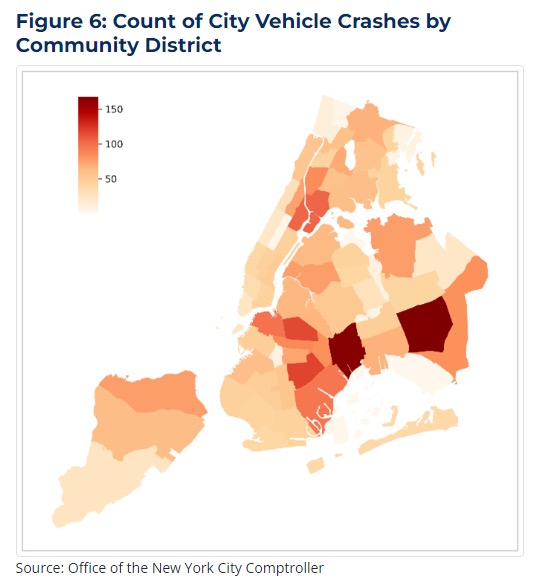 Why are They so Many Crashes Involving NYPD Vehicles?
While the NYPD has the largest fleet of vehicles in the city and accounts for 32% of the city fleet of vehicles, they were involved in 35% of crashes resulting in claims. While they are involved in more dangerous activities than other fleets, crashes resulting in claims are usually preventable and caused by negligent NYPD employees.
How Can Accidents Involving NYPD Vehicles Be Prevented?
A recent report from the NYC Comptroller recommends reducing the number and the size of vehicles in the city fleet and making agencies and drivers accountable instead of the taxpayers. SUVs and pickup trucks are responsible for many accidents, especially those involving pedestrians and cyclists. Because of their size, the blind spots of these vehicles are bigger and braking distance longer, increasing the risk of accidents resulting in death or catastrophic injury. Not only these vehicles are dangerous but when accidents occur, they are also the ones resulting in the highest payout to victims. The NYC comptroller recommends retiring old large vehicles and replacing them with smaller models.
Additionally, the comptroller recommends that city agencies do more to hold their drivers accountable when they drive recklessly and run red lights, triggers speed camera or crash their vehicle as the result of reckless driving. The comptroller recommends that drivers be held accountable for their acts with actions that go from remedial driver education to suspension of City vehicle driving privileges temporarily or permanently.
Last, instead of paying claims with the City's General Fund, the comptroller wants to allocate a budget for projected settlement costs within each agency's budget to incentive them and make them accountable.