New York Intersection Collision Accident Attorney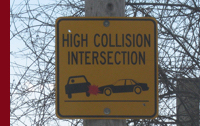 As top-rated car accident lawyers we know that intersection collision accidents represent a large percentage of motor vehicle accidents in New York City and New York State. This is simply due to the very nature of an intersection which is a location where two or more roads cross each other. The actions of drivers at intersections creates a greater opportunity for accidents because drivers at intersections often are turning left, crossing over, and turning right. Statistics from the National Highway Traffic Safety Administration(NHTSA) estimate that 35-40% of all motor vehicle accidents are intersection related.
It is not surprising that intersection collision accidents are overwhelmingly caused by actions attributable to negligent drivers which primarily involve drivers simply not paying enough attention. The most common cause of intersection collision accidents is what is called "inadequate surveillance." In New York, the law is clear that a driver has a duty to "See what there is to be seen." Failure to do so through the proper use of one's senses is an inherently negligent act. Claims by drivers that they did not see another vehicle until the last second or that the other car "came out of nowhere" are not valid excuses for an accident and the law in New York takes a dim view of drivers who attempt to use such defenses.
Other reported and common causes of intersection collision accidents include false assumptions about the other driver's actions, turning with an obstructed view, an illegal maneuver, internal distraction or a misjudgment of gap or other's speed. On rare occasions, the cause of an accident can be a faulty traffic control device or other external factor such as a mechanical issue with the motor vehicle itself.
Due to their very nature, the actions of drivers at intersections is well-legislated by state and local governments. The Vehicle and Traffic Laws of the State of New York as well as the New York City Traffic Rules and Regulations deal extensively with proper driver behavior at various types of intersections. Most accidents which occur at an intersection will involve a driver's violation of one or more of the New York State Vehicle and Traffic Laws or other applicable rules and regulations.
Personal Injuries Resulting From Intersection Collision Accidents
Intersection collision accidents unfortunately result in some of the most catastrophic injuries seen in motor vehicle accident cases. The offending vehicle is often traveling at a high rate of speed and contacts another vehicle which is also moving. The resulting collision is usually either a head-on collision or a side impact collision. Thus, the force of impact in an intersection collision accident is often very high which increases the likelihood of serious injuries.
The majority of intersection collision accidents involve a side impact of some type. Typically, the front of one vehicle will strike the side of another vehicle which generally does not afford as much protection to the occupants of a vehicle as the front and rear of the vehicle which can crumple in an accident situation. The side of a motor vehicle has less ability to crumple and absorb an impact. Even though many newer vehicles have side air bags, the protection they afford to the occupants is limited. If the impact occurs near a door, the driver or passenger in a car can be struck with incredible force, and he or she can sustain catastrophic injuries due to blunt force and crushing. As a result, the injuries seen in accidents involving intersection collisions can be very serious.
Regardless of the type of impact, intersection collision accidents often result in very serious injuries simply due to the force of the vehicles involved. Injuries often seen include traumatic brain injury, spinal cord injury including paraplegia or quadriplegia, or serious fractures often to the legs and lower body.
Experienced NYC Intersection Collision Accident Lawyers
Attorneys who regularly litigate intersection collision accident cases are extremely familiar with the litany of excuses proffered by drivers who cause serious injuries in these types of accidents. When choosing a car accident lawyer NYC, an injured party should be confident that their attorney knows how to investigate and disprove claims by drivers who refuse to accept responsibility for their negligent actions.
Where nobody is injured or the injuries are not considered serious, the No-Fault laws of New York will generally govern any bodily injury claims and restrict recovery. Conversely, the more serious the injury that results from a car accident, the more likely it is that a successful recovery can be obtained.
The personal injury attorneys at our firm have helped countless individuals and families suffering serious injuries or death as a result of a being struck by a car, truck, bus or other motor vehicle in an intersection collision accident. We retain expert accountants, financial analysts and economists because every personal injury case has its own set of associated costs, including pain and suffering, lost wages, the cost of care and many other monetary costs. In order to accurately assess what these costs will be for the remainder of a victim's life, we use financial professionals to derive fair resolutions for injury victims. Additionally where necessary we retain the best accident reconstruction engineers in the field. It is also often necessary to retain a biomechanical engineer where the cause of the injury is challenged.
The attorneys at Gair, Gair, Conason, Rubinowitz, Bloom, Hershenhorn, Steigman & Mackauf advocate for our clients' full financial recovery through detailed, meticulous preparation for trial. If you have been injured in an automobile, truck or bus accident, please contact our firm to discuss your case.