Head-on Collision Accident Lawyers in New York
Were You Injured in a Head-On Accident?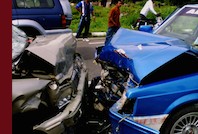 The NYC car accident lawyers at Gair, Gair, Conason, Rubinowitz, Bloom, Hershenhorn, Steigman & Mackauf advocate for our clients' full financial recovery through detailed, meticulous preparation for trial. If you or a loved one has been injured or died in a head-on collision, call us. We will give your case the individual attention it deserves.
What Is a Head-On Collision?
A head-on accident is when the front of one motor vehicle strikes the front of another motor vehicle. Head-on collisions are among the most serious motor vehicle accidents and often result in severe injuries or death due to the amount of forces involved when two heavy, moving objects collide. Although they account for only two percent of all accidents, they cause 10% of all car accident fatalities.
A head-on collision typically occurs when a motor vehicle crosses a centerline or a median and crashes into an approaching vehicle. A head-on collision can also occur when the driver of a motor vehicle intentionally or unintentionally travels in the wrong direction down a road. There are a variety of other ways in which a head-on collision can occur including, distracted driving, driving while intoxicated, passing on a two-lane road, suddenly changing lanes due to construction or a stopped vehicle, roadway defect, vehicular malfunction, and excessive speed/loss of control. Head-on collisions on highways are particularly dangerous as a result of the high speed of the vehicles involved.
What Are the Most Common Injuries Sustained in Frontal Crashes?
Despite the fact that head-on collisions occur infrequently, when they do occur the injuries sustained are often catastrophic or fatal. Because of the magnitude of the forces involved, occupants of motor vehicles involved in a head-on collision can sustain serious head and brain injuries or spinal cord injuries resulting in paraplegia or quadriplegia. Other injuries seen with head-on collisions involve fractures to bones throughout the body and other types of internal injuries.The weight and speed of the vehicles involved has a significant bearing on the damage sustained in a head-on collision accident. In cases involving a truck or other heavy vehicle drifting into the opposite lane of travel due to sleep deprivation, intoxication or distracted diving, the impact with a standard passenger vehicle will typically result in terrible, life-altering injuries to the occupants of the passenger vehicle or even death. It is critical that an attorney have a strong understanding of the physics involved in a head-on collision and how the speed/weight differential affects the severity of the impact and resulting injuries.
How to Choose a Lawyer If I Was Injured in a Head-On Collision?
If you or a loved one suffered injury or died in a head-on collision you want to make sure that you choose a car accident lawyer in NYC that regularly litigate head-on collision accident cases and has intimate knowledge of the potential causes of these types of accidents. Due to the severity of a head-on collision, it is important to choose an attorney who knows how to properly investigate these claims, and is prepared to retain experts in the fields of bio-mechanical engineering and accident reconstruction in order to prove the negligence of the driver responsible for the accident. Additionally, because these type of accidents consistently result in catastrophic injuries or death, attorneys must have the resources to retain experts in a variety of medical or economic fields in order to adequately evaluate and present the victim's damages to insure proper compensation.
The personal injury attorneys at Gair, Gair, Conason, Rubinowitz, Bloom, Hershenhorn, Steigman & Mackauf have helped countless individuals and families suffering serious injuries in a head-on collision crash. Contact us for a free consultation at 212-943-1090.