NYC Rear-end Collision Accident Lawyer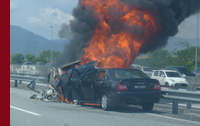 Among the most common types of motor vehicle accidents in New York our car accident lawyers see is the Rear End Collision. Rear-end collision accidents happen when one motor vehicle strikes another from behind. According to the National Highway Transportation Safety Administration (NHTSA), rear-end collision accidents account for nearly 30% of all motor vehicle accidents. In the State of New York, and particularly in New York City, traffic and congestion result in a large number of rear end collision accidents every year.
Knowledgeable New York Rear End Accident Attorneys
When choosing a lawyer, it is important to choose one who knows the various and unique New York City Traffic Rules and Regulations as well as the details of the Vehicle and Traffic Laws of the State of New York. Familiarity with these laws is imperative to insure that an injured party obtains a recovery to the fullest extent of the law.
In order to recover damages in a rear-end collision accident, it must be shown that the offending driver was negligent in the same manner as in other types of motor vehicle accident cases. In a rear end collision case, this can often be proven as a matter of law by a legal procedure known as a Motion for Summary Judgment in which a Judge determines as a matter of law that the offending vehicle is 100% responsible for the accident and the victim is entirely free from fault.
Common Negligent Acts Leading to Rear End Collision Accidents
It is common sense that drivers of motor vehicles have a responsibility to follow other vehicles at a safe distance. The reality in New York is that many drivers do not abide by this common sense rule which results in serious accidents on our roadways. A driver who crashes into the car in front of him is generally presumed to be at fault for the accident because the driver failed to maintain a safe driving distance between his vehicle and the vehicle in front of him.
Rear end collision accidents can be caused by a variety of negligent acts. The most common causes of rear end collision accidents are:
Following too closely or tailgating
Distracted driving such as cell phone use, texting or other internal car distractions
Poor weather conditions
Aggressive driving
Sudden and unexpected stops
Improper servicing
Vehicular failure / Product liability
The potential causes of a rear end collision accident are well-known in the legal community. In order to insure a successful recovery, an attorney must know the applicable law and be able to prove that the offending motor vehicle failed to act in a reasonable manner under the circumstances and that is what caused the accident.
Common Rear End Collision Injuries
Simply because an accident occurred does not mean that personal injuries or damages also occurred. Very often, damages to the vehicles involved in a rear-end collision are not that severe or are what is commonly referred to as a "fender bender." In other cases, if the offending vehicle is a truck, bus or SUV, the damages to the vehicles can be substantial. Regardless of the force of the impact, serious personal injuries can occur. Among the more common type of injuries in rear end collision accidents are those that involve the head and neck. These injuries may not be apparent at first, but their symptoms often intensify in the days following the accident resulting in the need for extensive medical treatment and even surgical intervention.
Where nobody is injured or the injuries are not considered serious, the No-Fault laws of New York will generally govern any bodily injury claims and restrict recovery. Conversely, the more serious the injury that results from a car accident, the more likely it is that a successful recovery can be obtained.
NY Rear End Accident Lawyers You Can Trust
The personal injury attorneys at our car accident lawyer NYC firm have helped countless individuals and families suffering serious injuries or death as a result of a being struck by a car, truck, bus or other motor vehicle in a rear end collision accident. We retain expert accountants, financial analysts and economists because every personal injury case has its own set of associated costs, including pain and suffering, lost wages, the cost of care and many other monetary costs. In order to accurately assess what these costs will be for the remainder of a victim's life, we use financial professionals to derive fair resolutions for injury victims. Additionally where necessary we retain the best accident reconstruction engineers in the field. It is also often necessary to retain a biomechanical engineer where the cause of the injury is challenged.
The attorneys at Gair, Gair, Conason, Rubinowitz, Bloom, Hershenhorn, Steigman & Mackauf advocate for our clients' full financial recovery through detailed, meticulous preparation for trial. If you have been injured in an automobile, truck or bus accident, please contact our firm to discuss your case.