New York Personal Injury Lawyer Reviews
I met Diana Carnemolla and Howard S. Hershenhorn during the darkest time of our lives, when my husband was in a coma with very little chances to survive, due to a car accident. The compassion and professionalism that they showed myself and my family during such a difficult time combined with an incredible willingness to get the best results for us have shown us that we had made the absolute best choice. They not only fought extremely hard for what proved to be a very difficult case, but they also emotionally helped us through this incredible ordeal and have been a caring advocate for our family and our case. They got us the best results we could have expected given the circumstances and didn't give up when things got more challenging. We would absolutely recommend their Law Firm to handle the toughest of cases while providing such a great deal of personal support. Diana proved to be personally invested in our case ultimately seeking the best outcome for our family. We cannot thank them enough for what they have done for us.
- Veronica Pagani
---
This law firm has extremely talented lawyers, Jeffrey Bloom, David Larkin. And an awesome secretary, Anna. They've worked my case for several years! Mr Bloom has went over and beyond his obligations to make sure I could live a stress free, Happy life. The outcome was way beyond my imagination. I'm forever grateful to them. I've read comments on Mr Bloom and I'll just say he's a giant teddy bear! That truly cares for his clients. Don't take my word for it. Google! Jeffery Bloom and see how truly educated and gifted he is, in the malpractice field. This law firm tells you from the beginning they won't just take on any case! as they shouldn't. They should take on cases worthy of their talent. David Larkin is awesome to go to if you have any questions about your case or to get you prepared for the depositions. God is with this firm whether they know it or not. I've watched God show up and show out through Gair Gair. Sincerely Sharlene
- Funtime Freddy & Bonnie
---
This firm is top notch. Diana Carnemolla & Howard Hershenhorn worked tirelessly on behalf of our son, John Paul. The professionalism and compassion they displayed throughout will never be forgotten. We have profound appreciation for their successful pursuit of justice on behalf our son, JP. Even when the outcome seemed murky or impossible, they encouraged us by their hard work, dedication and, ultimately, their friendship.
- Melissa Roberts
---
I would like to share my experience with the best lawfirm that I have dealt with. Howard Hershenhorn Is a very compassionate, very efficient and top rate! If you want a team of good lawyers that will not only work hard to win your case but knows how to listen and feel for you and your family, this firm is your only choice. Howard Hershenhorn was always there for us all throughout the case even now that the case is over he is still there and genuinely cares about our family. Words cannot express how thankful we are to him and his team. Thanks and god bless them all we couldn't of done this without them.
- Ruth Scheker
---
The law office of Gair, Gair, Conason, et al is truly one of a kind. The professionalism of the entire staff is superb. From the first meeting I had with Richard Soldano the team was there to hold my hand. Whenever I had questions, or needed assistance with insurance companies they had me covered. Kristina is a pleasure to work with as well. Due to Covid I have never met Diana Carmenolla Esq., but I feel as if I know her forever. Her endless patience throughout the year, the empathy she has shown me, and her can do attitude went a long way in alleviating any stress I was feeling. Diana's dedication knew no bounds, whether is was 7:00 AM or 10 PM, I knew I had someone to talk to if need be. I am looking forward to the day I will meet Diana so that I can personally express my gratitude for a job well done. Thank you so much for everything.
- Barbara Friedman
---
It was great working with them and was impressed by the level of attention, commitment and professionalism!
- Daniel Goddemeyer
---
My name is Karen and I obtained the services of Gair, Gair, Conason after going through one of the hardest times in my life. I was diagnosed with Stage 4 Lung Cancer after the doctors neglected to tell me a year prior that I even had a "small" mass on lungs and within a year it grew. I ended up needing surgery, chemo and radiation. The compassion and professionalism that Diana Carnemolla and Howard Hershenhorn showed me was incredible. They worked so hard over the past 4 years to make sure that there was justice for what happened. I thank both Diana and Howard from the bottom of my heart for all they have done for me!!
- Jamie Russell
---
Very compassionate, very efficient and top rate! If you want a team of good lawyers that will not only work hard to win your case but knows how to listen and feel for you as a victim of medical malpractice, this firm is your only choice. Anthony Gair, was always there for us all throughout the case albeit the distance from NY to Manila! Words cannot express how thankful we are to him and his team. Thanks a million!
- Daki Fernando
---
Marijo Adimey was our attorney and we cannot say enough wonderful things about her. Her wisdom, care and concern for my mother exceeded all of our expectations. Anyone would be lucky to have her representing them.
- Ella Gorodischer
---
On behalf of the Altman family, I would like to express our deepest gratitude to the entire firm for the outstanding and excellent representation in the case of my wife Stephanie, who experienced a devastating stroke as a result of medical malpractice.
From our first meeting with the firm until the settlement we found them to be extremely caring and solicitous to our needs. Everyone we worked with was responsive and sensitive to any questions we had.
I would like to specifically mention Howard Hershenhorn and Diana Carnemolla who represented us in a truly professional manner and proved to be outstanding representatives for us in a very complicated case.
It was a pleasure working with a firm that dealt with our needs in such a caring and compassionate fashion.
- Frank Altman
---
I could not choose better law firm for my case than Anthony Gair's firm. I am satisfied above and beyond with their work. The best attorneys I have ever worked with. They knew everything about my case and even more than an attorney supposed to know. They even had deep medical knowledge to successfully argue with expert witnesses. They are not like most of the attorneys who don't really care about their cases. They are prepared, and they spend time to know every little detail about the case. My attorney Christopher J Donadio always knew what to say and when to say it, or how to answer a question the best and most proper way. He always sad "We have many cases, but you only have one...". Thus before and during the trial period, he only worked with my case and nothing else. I witnessed a lot of preparation!!! Thank you.
Moreover, they are not only professionals but honest and very friendly as well, so it was a pleasure to work with them.
- Janos Hugya
---
My work with the lawyers and support staff at Gair, Gair was remarkable. Everyone was extremely responsive and kind, and - most importantly - got an amazing result for me post injury. I came to the firm after a devastating car accident left me paralyzed from the chest down. Through the dedication and professional expertise of the attorneys I worked with, I received a settlement which allowed me to regain significant independence. I am forever grateful to Tony Gair and his team and highly recommend this firm to anyone looking for incredible client care and great legal results.
- Alex Blaszczuk
---
Dear Ben,
Our family would like to extend our gratitude to you for your masterful court representation on behalf of Alonzo and our family this past summer. We're very pleased that you were at the helm, steering us into victory with your meticulous method of learning the intricacies of Alonzo's ordeal. Your long hours and great attention to detail did not go unnoticed.
We know that the trial was scheduled at a crucial time in your personal life with the hospitalization of your wife, and that could not have been easy. We trust that she's healing well, and her recovery is one in which she has returned to full health.
You're in our thoughts as this year comes to an end, and we enter into the third phase (hopefully the final phase) of the case. Thanks again for your hard work on behalf of our family.
Happy Holidays!
Respectfully,
- The Yanes Family
---
Highly recommended by reputation: THE DREAM TEAM, professionals taking you out of your NIGHTMARE. You helped us every "knot" of the way!
Your proficiency, knowledge, along with the research of the massapequa waters, boating safety proved the recklessness of the driver; who didn't protect us from danger.
Peter, during the deposition your questions/extrapolating the facts of defendant of prior accidents , lawsuits and what occurred the night of the boating accident were remarkable. You took such a personal approach, understanding our situation with care and warmth for due diligence.
Our future was in your hands since our friend was reckless in ours.
Ben, we knew you were informed and interested in the case with a personal "touch"…that "touched" our hearts by taking on our case
You "wanted" this for us
When we were at the final hours of settling our case at the negotiating table
Each amount offered… you rejected
"we could do better"
You provided the negotiator with cases you researched that awarded larger sums.
To "sum" it up…
We put our trust into you and peter to secure our future without worries of the what ifs… And for that…we are forever grateful
Fondly,
- Susan and Bobby Gottlieb
---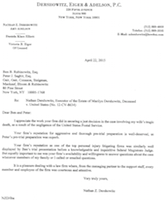 Almost four years ago my mother was killed in a tragic cycling accident when she was run over by an on-duty US Postal Service truck. As a family, we were devastated and simply could not make sense of the loss. While we have many lawyers in the family, we knew that none of us could represent ourselves in trying to obtain some measure of justice and vindication. We went to Ben Rubinowitz and his firm.
Ben was thoughtful, engaged and extremely competent. He built a very effective case to show that not only was the Postal worker driving the truck responsible for the accident, the Postal Service itself had negligently created a dangerous situation around its facility that was also responsible. Ben was extremely effective at using witnesses and photographic evidence to clearly and concisely paint a picture of what had occurred. The government was found 100% at fault, with a clear ruling that my mother had done absolutely nothing to contribute to her untimely and unfair death.
Client's Letter While nothing can bring my mother back, Ben's work enabled us to at least find comfort that those at fault were held accountable and for that, we will be forever grateful.
- Rana Dershowitz
---
Ben Rubinowitz is a modern-day gladiator armed with the most potent weapons available on earth:
KNOWLEDGE – EXPERIENCE – COURAGE – PERSEVERANCE
Ben made us feel at ease while working tirelessly in the pursuit of our best interests. He guided us through each step in the process, presented the facts of the case (both favorable and unfavorable), opined on the probabilities of success at different settlement amounts, gave practical advice, and then took swift and definitive action once we had agreed on an approach. Like some of Ben's cases, ours was settled out of court, thereby sparing all parties the stress and potential all-or-none outcome of a jury-based award.
During our settlement negotiations, Ben was relentless in overcoming each argument that the insurer's team of attorneys threatened to use in court. Because of his intimate knowledge of medical procedures, the legal system, and other specialized expertise gained through years of in-court experience, Ben was able to convince both us and the insurer's team of attorneys how compelling a case he would be able to make to a jury. The insurer settled privately for an amount that far exceeded our expectations. Put simply:
INJURED PARTY + BEN RUBINOWITZ = INSURER'S WORST NIGHTMARE
We are delighted to give Ben Rubinowitz our highest and unqualified recommendation, and we say to any prospective client, "You couldn't be in better hands; Ben is the BEST, bar none."
- D. Feller and W. Stratigos
---
A considerate, hard working, very smart attorney. Ben worked extremely hard on my case and ultimately was very successful. I consider him a friend and heartily recommend him to anyone in need of his services.
- Anonymous
---
If anyone has any doubts about Ben, don't. If Ben takes your case, consider yourself lucky. You will have one of the smartest, most legally savvy attorneys in the medical malpractice universe. Ben worked tirelessly preparing for my case, and came to trial with a flawless medical understanding, documented with beautifully illustrated posters. More importantly, he came prepared with a watertight legal strategy, yet he remained flexible, quick witted, and fast enough on his feet to switch strategies mid-trial due to changing circumstances. His remarkable memory enabled him to shred the other attorneys every turn, and he was clearly better prepared than the entire opposing legal team. He made their start witnesses (doctors) look incompetent, and punched holes in their testimony. But what made Ben really effective was his genius at handling the jury. Towards the end of the weeklong trial the judge called me into his chamber and begged me to settle with the insurance company, so afraid he was that we were going to end up with nothing. He told me that he was convinced the jury was not on my side. But the judge was dead wrong - the jury gave me an award that broke NY State records. And just as important, Ben did a fantastic job in post-trial negotiations when the insurance companies once again tried to play hardball with us. It took another long hard day of negotiations, but Ben didn't cave, and ended up with a wonderful package. One more thing...Ben became like a brother to me and a step dad to my children, a true friend who is there when we need him, a friend I hope to have the rest of my life. I will never be able to thank him enough for what he has done for me and my family.
- Christopher Jones
---
The results speak for themselves, yet the means of attaining the results define Mr. Rubinowitz's approach to achieving a way to justifiably find closure to moving on in life with dignity, through equitable assessment and representation of the case in a court of law. His attention to detail and preparation carry and present the needs of the client. Aiding and empowering with an insight of what can be accomplished through the legal system. Instead of being viewed as a detail in a portion of the case, the client is presented with the best opportunity as the focus of the case. Mr. Rubinowitz's abilities in the courtroom represent and reflect years of experience providing the most reasonable, and realistic of results. When one's own life has sustained irreparable damage and decreased quality of life and your case is placed under scrutiny before the eyes of the law the best representation is the best defense. Mr. Rubinowitz's representation in defense is what made a difference in depth of scope of my case being evaluated before my peers "beyond a reasonable doubt in my favor". Thus attaining justified compensation and the best possible solution to what has been personally lost beyond restoration.
- Gloria Aguilar
---
Ben has a fine sense of case dynamics and led me to a settlement beyond what I had expected. He is a pleasure to work with.
- Anonymous
---
After my sister and I went through a traumatic accident in 2018 a family friend recommended the James Rubonowitz and I could not be more thankful they did. I had nothing but a great exeperience with Gair, Gair, Conason, Rubinowitz, Bloom, Hershenhorn, Steigman & Mackauf!
James Rubonowitz was there every step of the way with support and guidance for me and my family. He not only helped me with my settlement but also with incoming medical bills and without this help I would have been lost.
I would highly recommend James and his team to anyone in need!!
- Mia Salvaggio
---
In the face of injustice, the most important thing is someone you can turn to for the best legal advice and representation in the world. Someone you can trust... that's the hardest working team of Gair, Gair, Conason, Steigman, Mackauf, Bloom, & Rubinowitz. This law firm is the creme de la creme, and definitely gives you the best kind attention and care that is so very important when dealing with the difficult aftermath and happenstances of life and health. My case was particularly difficult to solve and stumped another law firm for over 16 months until they finally gave up.
Fortunately enough, I was able to speak with Mr.Rubinowitz and Mr.Saghir, and they reassured me that they would try their very best to do right by me, and help me get the justice I deserved, and they did! They went way way way above and beyond the call of duty and were instrumental in changing the course of my Life. I cannot thank them enough for their unwavering hope, help, hard work and determination. If you're in need of legal representation, my recommendation, hands-down, would be the best law firm out there: Gair, Gair, Conason, Steigman, Mackauf, Bloom, & Rubinowitz. With them, you will feel confident! Good luck & all the best.
- Dani J.
---
When I first came to this firm for help, I was still reeling from the loss of a loved one. Thankfully, from the moment I walked through the door, I was treated with nothing but compassion and professionalism. Everyone, from Carolann to Angie, to my attorney Marijo, displayed a kindness and understanding that assured me I was in great hands. Whenever I had a question or concern, they were never more than a phone call or email away, and even though I knew just how busy they were, I could always expect a thoughtful response within minutes. The diligence and hard work they put into my case were truly evidenced by an outcome that surpassed my expectations, but the personal touch they provided is something I will always be thankful for.
- Justin Kenny
---
I have known Tony Gair for many years, and have referred cases to his expert handling. Tony is one of the great plaintiff's personal injury lawyers, perhaps the best in the business. If he takes your case, you know you're in the hands of the best. He is super knowledgeable, highly skilled, a person of the highest integrity and morals, and a wonderful human being and gentleman.
- Ray Beckerman
---
In October of 2016 I was hit, dragged, and run-over by a 55-foot truck while biking to work. I was hospitalized for 6 weeks, and released with significant mobility limitations and an open wound from skin-graph surgeries that I had undergone.
A friend recommended Peter Sagir from Gair, Gair, Conason, Rubinowitz, Bloom, Hershenhorn, Steigman & Mackauf to represent us as our attorney. Peter stood by my family's side throughout the ordeal, and has helped us to reach a settlement that has enabled my to purchase my home in Brooklyn, reduce my working hours, and have college savings for my son who was 18 months at the time of my accident.
Peter was understanding, honest, and tough on the defendants. You want Peter on your side should you experience a tragedy where someone else is at fault.
- Brian Ricci
---
Mr. Gair, my family and I greatly appreciate all of your work on my case. I was quite stressed about giving a deposition about what was a very tough moment in my life. Thankfully, your preparation, research and attention to detail were impeccable and I felt assured that I was in good hands. Thank you also for being so kind, understanding and supportive.
- Prabha Ram
---
My family had a 5 star experience with Gair and Gair. We were more than very pleased with the settlement and the service/guidance we received from James Rabinowitz Esq. and Tiffany Deas throughout the entire process. We couldn't have asked for better communication. We felt that the team displayed excellence in how they fought for the settlement and commitment in resolving the case.
- Bert Krieger
---
I cannot say enough about this practice. We worked with Diana Carnemolla who was empathetic to our needs and persistent when dealing with our case. Anyone I came in contact with was pleasant, professional and welcoming.
- Barbara Knab
---
I cannot say enough wonderful things about the firm! The attorney's who handled my case, Peter Saghir and Ben Rubinowitz are true professionals and deeply care about their clients. I was incredibly fortunate to have them represent me and prepare my case with dedication from start to finish, while providing me peace and mind and support. I highly recommend them to anyone in need of an exceptional legal team with compassion for their clients!
- Elizabeth Deal
---
After going through a traumatic experience in our lives we were recommended to contact the Law Firm of Gair, Gair, Conason, Rubinowitz, Bloom, Hershenhorn, Steigman & Mackauf.
We couldn't be more grateful for Diana Carnemolla working as our attorney. Her incredible dedication, warm heart and compassionate approach to our situation was what we needed to get through this most difficult moment in our lives. We can honestly say that Diana was there for us at every step of the way. Diana was always available and approachable, we felt like we always had someone in our corner. We were able to reach her and speak to her about all our questions and concerns.
Diana and her team put all of their efforts to ensure that my husband and I were well prepared for our depositions, being that they put a lot of emotional strain on both of us.
We'd like to thank Diana and her team- especially Polina, from the bottom of our hearts for their professionalism and hard work on our case.
THANK YOU!
- Olga Gronkiewicz-Ivanov
---