NYC Explosion and Fire Accident Lawyer
Did You or a Loved One Suffered Burn Injuries or Other Catastrophic Injuries in a Fire or an Explosion in New York?
The New York fire accident attorneys at Gair, Gair, Gair, Conason, Rubinowitz, Bloom Hershenhorn, Steigman and Mackauf have obtained record verdicts and settlements for victims who suffered burn injuries or other severe injuries or sustained significant property damage, as a result of a gas explosion, steam explosion, pipe explosion, manhole explosion or other fire accident. If you or a loved one has suffered burn injuries, smoke inhalation injuries or other injuries in a fire in New York, contact us today to discuss your case.
Recently our managing partner, NYC burn injury attorney Ben Rubinowitz obtained a record setting 59.2 Million verdict for a 16 year-old-student who suffered devastating burns in a botched chemistry experiment.
At the time of the accident, the chemistry teacher was demonstrating how different nitrates produce different colors when ignited. As she negligently poured methanol out of a gallon container onto a hot evaporation dish, a flame whipped into the methanol container and created a fireball than ran across the counter and engulfed the victim. 30% of his body including the neck and the face suffered 3rd degree burns.
Notable Results Obtained by the Firm
Our firm was involved in several catastrophic multi party cases. Below are some examples of our successes:
$ 100,000,000 recovery for the victims of 9/11 and their families
$ 50,000,000 settlement for 11 members of the Board of Directors of a Fortune 500 Company killed in a fire at Stouffer's Hotel in Westchester County
$ 18,000,000 for the victims of the gas explosion on Ann Street, New York City
$ 14,000,000 for tenants injured in a steam pipe explosion
$ 3,000,000 for injuries resulting from a building collapse on West 35th street, New York City (there was only $2,000,000 in insurance coverage)
Other cases of note when our firm was the sole plaintiff include:
$ 12,400,000 for a woman who died in a gas explosion in Floral Park, Queens, New York.
$ 6,500,000 for a man killed in an explosion as a result of a defective propane tank.
What Should I Consider When Looking for a Fire or Explosion Accident Attorney in New York?
Although many attorneys claim to handle explosion and fire accident cases, the simple truth is that not all law firms are equipped to handle these difficult matters. Usually in these types of cases, the property damage is severe, the medical costs are high and the pain and suffering and other losses can be immeasurable. In addition to the complicated technical issues surrounding these claims, explosion and fire accident claims often involve the application of complex federal and state laws and regulations and industry standards. A law firm with the resources, experience, and personnel necessary to properly investigate and pursue the claim is crucial.
If I Have Fire Damage Insurance Do I Still Need to Contact a Specialized New York Fire Accident Lawyer or Can I Deal Directly with My Insurance Company?
If you sustained significant damages and serious personal injury in an explosion or a fire, we would highly recommend you contact an attorney. Explosion and fire accidents are usually caused by multiple acts and omissions of different parties. The causes of explosions and fires can often be traced back to human error or corporate negligence. The reality is that those individuals or companies that cause explosions and fires usually have significant resources to enable them to aggressively defend themselves. Determining the cause of an explosion or fire, and who should be held accountable for the injuries and damages caused, is usually a matter that requires swift action on the part of the victims' attorneys to investigate the cause of the explosion or fire. This necessarily requires an attorney to retain the highly specialized experts needed to determine the cause of the explosion or fire and the manner in which it could have been prevented. Our attorneys have worked on numerous occasions with some of the leading national experts in the fields of explosion and fire prevention and cause and origin to properly litigate these complicated and hard-fought cases.
I Suffered Serious Burn Injuries and Significant Damages after a Fire Started in My Kitchen. Do I Have a Claim?
Kitchen fires are the most common causes of fire accidents in New York City. Whether you have a case or not depends on various factors. The primary factor is the cause and origin of the fire. In other words what caused the fire and where did it originate from? Normally the New York City Fire Department will investigate the cause and origin of the fire by an employee known as the fire marshal. Depending upon the results of the fire marshal's investigation as to where the fire originated from and what caused it you may have a case. If the kitchen fire arose from a defective or improperly maintained stove or if legally required smoke detectors were not installed in a rental apartment where the fire arose you might have a case.
New York Gas Explosion Lawyer
Gas explosions have a high propensity of happening in New York City because the City's gas distribution system is one of the oldest in the country. 60 % of the gas mains that provide gas to customers in the city are still made of cast iron and unprotected steel. The cast iron pipes were installed more than 100 years ago and the bare steel pipes more than 50 years ago. Both types of pipes are prone to leaks. Leaky pipes can lead to gas explosions and fires and pose a safety risk to the New York City crowded urban area.
Two companies oversee the gas mains in the city: National Grid and Con Edison. National Grid provides gas to Brooklyn, Staten Island and Parts of Queens while Con Edison covers Manhattan, the Bronx and Northern Queens. Con Edison has a much higher leakage rate than National Grid with 83 leaks for every 100 miles of main in 2012 compared to 45 for National Grid according to the Federal Pipeline and Hazardous Materials Safety Administration.
Under the "Main Replacement Program" (MRP) Con Edison is replacing an average of 30 miles of Leak Prone Pipes (LPP) every year but a more aggressive schedule may be necessary. The New York Gas Explosion Lawyers at GGSMB&R are concerned that the low price of natural gas combined with Mayor Bloomberg's previous decision to ban the heating oil #4 and #6 may lead to an increase in demand for gas that cannot be safely supported by the actual gas system infrastructure.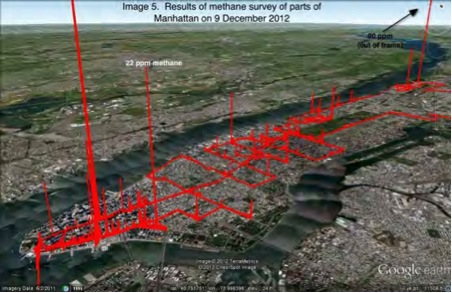 Methane emissions can be used in evaluating the role of natural gas leakage in Manhattan
Photo Source: Extended Report on a Preliminary Investigation of
Ground-LevelAmbient Methane Levels in Manhattan,
New York City, New York.
The Importance of Hiring an Experienced NYC Explosion Lawyer
Explosions and fires are among the most devastating and overwhelming events that occur on a regular basis throughout New York. They often lead to serious burns or other catastrophic personal injuries and death, as well as the destruction of property. Explosions and fires are seen throughout the state in all manners of locations and circumstances, including improperly protected construction sites, defective home propane tanks, flammable or highly combustible fuels in certain industries, improperly designed gasoline tanks on a motor vehicle or other fuel-powered equipment, defective smoke detectors or fire alarms, faulty wiring in a new house, or negligent maintenance of public electric or gas utilities. Each of these negligent acts alone is enough to cause an explosion or fire or to create an environment where a minor fire becomes a catastrophic event. New York law allows victims of explosions and fires, including firefighters and rescuers, to recover for injuries, death, and property damage when the explosion or fire was caused by negligence. It is a weekly, if not daily, occurrence for there to be a news report of an explosion or fire somewhere in New York. Victims need both immediate and long-term help, including help from experienced lawyers, to protect their rights and move toward recovery.
The New York explosion attorneys at Gair, Gair, Conason, Rubinowitz, Bloom, Hershenhorn, Steigman & Mackauf advocate for our clients' full financial recovery through detailed, meticulous preparation for trial. If you have sustained significant property damage, suffered a serious personal injury or a loved one died as a result of an explosion or a fire accident, please contact our firm to discuss your case.
Disclaimer: Please be advised that the results achieved in any given case depend upon the exact facts and circumstances of that case. Gair, Gair, Conason, Rubinowitz, Bloom, Hershenhorn, Steigman & Mackauf cannot guarantee a specific result in any legal matter. Any testimonial or case result listed on this site is based on an actual legal case and represents the results achieved in that particular case, and does not constitute a guarantee, warranty or prediction of the outcome of any other legal matter.