New York Train Accident Lawyer
HAVE YOU OR A LOVED ONE BEEN INJURED OR DIED IN A TRAIN ACCIDENT OR A SUBWAY ACCIDENT IN NEW YORK?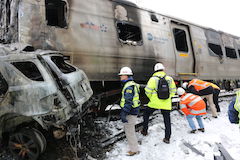 Subway and train operators, and their parent companies have a professional obligation to ensure that passengers are transported safely to their destination. If an operator negligently fails to deliver passengers unharmed, injures pedestrians, or injures passenger vehicle occupants, the employee and his or her company may be found negligent. To successfully litigate these types of cases, an attorney must have full command of the transportation law as found in Title 49 of the United States Code and be familiar with the various regulatory agencies for these types of accidents. For example, accidents to railroad workers are covered by FELA (Federal Employers Liability Act) and The Federal Transit Administration covers subways and mass transit. Our train and subway accident lawyers have a comprehensive understanding of this body of law and the experience necessary to develop strong cases for clients who have been injured or for the families of those killed in a subway or train accident.
The NY train accident attorneys at Gair, Gair, Conason, Rubinowitz, Bloom, Hershenhorn, Steigman & Mackauf handle:
Metropolitan Transportation Authority (MTA) Accidents
New Jersey Transit (NJT) Accidents
Amtrak Accidents
Long Island Railroad(LIRR) Accidents
Metro North Accidents
New Jersey Rail and Port Authority Accidents
PATH (Port Authority Trans-Hudson) train accidents
Subway accidents
Passenger train accidents
Commuter train accidents
Freight train accidents
EXTENSIVE CASE PREPARATION BY KNOWLEDGEABLE AND AGGRESSIVE NYC TRAIN ACCIDENT ATTORNEYS

The Metropolitan Transportation Authority (MTA), New Jersey Transit (NJT) and other agencies employ internal investigators to collect evidence and conduct an investigation into the cause of subway and train accidents. In order to ensure important eyewitnesses are located, conductors interviewed, and physical evidence preserved, the experienced train accident lawyers of
Gair, Gair, Conason, Rubinowitz, Bloom, Hershenhorn, Steigman & Mackauf
initiates an independent investigation process as soon as possible when seeking damages for a subway or train accident.
If necessary, we also retain expert accountants and financial analysts because many subway and train accident cases have their own set of associated losses including lost wages, the cost of care and many other monetary costs. In order to accurately assess what these costs will be for the remainder of a victim's life, we use financial professionals to derive fair resolutions for injury victims.
If you have been injured in a subway or train accident, please Contact our New York train accident attorneys to discuss your case.
Disclaimer: Please be advised that the results achieved in any given case depend upon the exact facts and circumstances of that case. Gair, Gair, Conason, Rubinowitz, Bloom, Hershenhorn, Steigman & Mackauf cannot guarantee a specific result in any legal matter. Any testimonial or case result listed on this site is based on an actual legal case and represents the results achieved in that particular case, and does not constitute a guarantee, warranty or prediction of the outcome of any other legal matter.