Excavation Accidents and Trench Collapse
At Gair, Gair, Conason, Rubinowitz, Bloom, Hershenhorn, Steigman & Mackauf, our team of excavation accident attorneys is dedicated to providing exceptional legal representation to construction workers who have sustained injuries in trench collapses, cave-ins, and other excavation accidents in New York City and New York State. Our experienced NYC construction accident attorneys possess a deep understanding of the complexities surrounding trench accident cases. We are wholeheartedly committed to advocating for your rights and securing the compensation you rightfully deserve.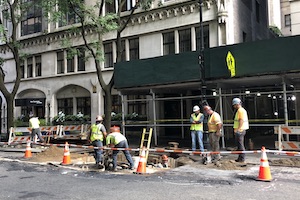 Excavation work is inherently perilous, particularly when dealing with trenches that are deeper than they are wide. This is precisely why construction companies must rigorously adhere to specific safety protocols when excavating or digging trenches. The consequences of failing to adhere to these safety rules can be catastrophic, often resulting in cave-ins that can swiftly and fatally crush workers.
Contractors engaged in earthwork (excavation) within New York City are mandated to notify the Department of Buildings 24 to 48 hours prior to commencing excavation, rock blasting, or rock chipping activities. Neglecting this crucial step can lead to violations, and in cases where the work violates relevant laws, regulations, or rules, a Stop Work Order may be imposed. Most excavation work necessitates permits, including underpinning projects. Implementing proper safety measures such as sheeting, shoring, guardrails, and conducting regular inspections is absolutely vital to safeguard the well-being of workers and adjacent properties. Contractors must also promptly notify the Department in the event of excavation cancellation, with random on-site audits serving as a mechanism to ensure compliance. Furthermore, the Fire Department of New York is responsible for regulating blasting operations.
Additionally, contractors must ensure that excavation sites are safe by contacting New York 811 at least two working days but no more than 10 days before commencing any excavation project.
Trench Collapses and Excavation Accidents Are Unequivocally Preventable, Yet All Too Frequently, Negligent Contractors Neglect to Implement Essential Safety Measures, Resulting in Injuries or Fatalities.
According to the most recent statistics, 2022 witnessed a record number of 39 construction workers losing their lives in excavation accidents in the United States, a stark increase from the 15 fatalities reported in 2021, 18 in 2020, and 21 in 2019. This alarming surge in excavation accidents has compelled the U.S. Department of Labor's OSHA to initiate enhanced enforcement initiatives, designed to protect workers from these well-documented industry hazards. OSHA's resolute commitment to workplace safety includes the consideration of criminal referrals for prosecution in cases where employers' actions or inactions result in worker fatalities or jeopardize their well-being. As part of its National Emphasis Program, OSHA compliance officers are in the process of conducting over 1,000 trench inspections across the nation. This proactive approach aims to prevent accidents such as trench collapses and cave-ins by rigorously enforcing protective systems and inspections. The agency also strongly encourages employers to seek assistance in complying with trenching and excavation requirements. To facilitate this, OSHA offers extensive support through outreach programs and consultation services for businesses.
What is trenching and excavation accident litigation?
Trenching and excavation accident litigation encompasses the legal process following accidents, injuries, or fatalities occurring in construction or work-related activities involving trenches or excavations. These cases typically involve pursuing compensation for damages, injuries, or fatalities resulting from safety violations, negligence, or non-compliance with regulations.
What are common causes of trenching and excavation accidents?
Common causes of trenching and excavation accidents encompass inadequate protective systems, failure to adhere to safety regulations, inadequate training, equipment malfunctions, improper soil analysis, and disregard for safety precautions. These accidents can lead to injuries or fatalities due to trench collapses, cave-ins, falling objects, or hazardous atmospheres.
Who can file a trenching and excavation accident lawsuit?
Various parties may initiate trenching and excavation accident lawsuits, including injured workers, surviving family members of deceased victims, contractors, and bystanders injured due to negligence or safety violations on construction sites.
What damages can be pursued in trenching and excavation accident litigation?
In trenching and excavation accident litigation, plaintiffs can seek various damages, including medical expenses, lost wages, pain and suffering, wrongful death damages, rehabilitation costs, and in some cases, punitive damages intended to penalize responsible parties for gross negligence.
Who can be held accountable in trenching and excavation accident cases?
Potential liable parties in trenching and excavation accident cases may include construction companies, contractors, subcontractors, engineers, equipment manufacturers, site owners, and safety inspectors. Liability hinges on the specific circumstances of the accident and responsibility for safety compliance.
What role does OSHA play in trenching and excavation accident litigation?
The Occupational Safety and Health Administration (OSHA) establishes safety regulations for trenching and excavation work. OSHA violations and investigations can substantially impact liability in these cases. Evidence of safety violations can bolster a plaintiff's case.
How can I substantiate negligence in a trenching and excavation accident case?
To establish negligence in a trenching and excavation accident case, you must demonstrate that the responsible party owed a duty of care, breached that duty, and that this breach directly caused the accident and resulting injuries or fatalities. The process entails collecting evidence such as safety records, witness statements, and expert opinions to construct a compelling case.
Is there a time limit for filing trenching and excavation accident lawsuits in New York?
Yes, there is a time limit, known as the statute of limitations, for filing trenching and excavation accident lawsuits in New York. Typically, this statute allows for a three-year window from the time of the accident. It is imperative to consult with an attorney promptly to ensure your case adheres to the applicable timeframe.
Should I engage an attorney for trenching and excavation accident litigation?
Certainly, it is highly advisable to consult with an experienced personal injury attorney or a wrongful death attorney who specializes in construction-related injuries. An attorney can guide you through the legal process, gather essential evidence, negotiate with insurance companies, and effectively represent your interests in court, if necessary.
How can I identify the right attorney for my trenching and excavation accident case?
Selecting the right attorney for your case involves seeking referrals from trusted sources, researching online reviews and ratings, and scheduling initial consultations with prospective attorneys to discuss your situation. Choose an attorney who possesses both experience in handling trenching and excavation accident cases and a proven track record of securing favorable outcomes. It's crucial to ascertain that your chosen attorney is not just a "settlement-focused" practitioner but one willing to take cases to trial when necessary, sending a clear message to the defendant's insurance company that you are committed to pursuing your rightful compensation.
By selecting our firm, you can rest assured that the defendant's insurance company will recognize our attorneys' reputation for courtroom litigation when an equitable settlement offer is not provided.
The NYC personal injury lawyers at Gair, Gair, Conason, Rubinowitz, Bloom, Hershenhorn, Steigman & Mackauf are unwavering in their commitment to securing justice for victims and their families. We understand the profound impact these accidents can have on your life, and we stand ready to advocate fiercely on your behalf. If you or a loved one has suffered injuries or losses due to a trenching or excavation accident, please don't hesitate to reach out to us by calling us at (212) 943-1090 or filling a contact form. We offer a free consultation to discuss your case, assess your options, and provide the guidance and legal expertise you need to navigate the complexities of litigation