Are You Looking for a Pedestrian Accident Lawyer in NYC?
The New York pedestrian accident attorneys at Gair, Gair, Conason, Rubinowitz, Bloom, Hershenhorn, Steigman & Mackauf have one of the best track records of verdicts and settlements for pedestrian accident cases in New York. Call us at (212) 943-1090 for a free consultation.
#1 NY Verdict in 2018
In 2018, our firm obtained a record setting $85 million verdict for a pedestrian who suffered catastrophic injury after being hit by a double decker sightseeing tour bus. This is the highest verdict awarded by a jury in NY State and the 25th highest in the US in 2018 . The pedestrian was crossing 6th Avenue at West 4th Street, downtown Manhattan. He was in the crosswalk with the light in his favor when a tour bus struck him, ran over his leg and dragged him a few feet before coming to a stop. The 54 year old victim spent 78 days in the hospital during which he underwent 9 surgeries. He had two additional operations after that. Once an avid runner, he will walk with a brace and suffer pain for the rest of his life.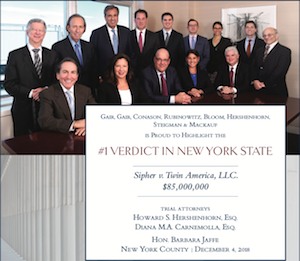 Other notable awards that the firm's top pedestrian accident attorneys include:
$27.5 million for a pedestrian who lost her leg after being struck by a bus
$26 million for the family of a mother who was struck by a truck
$12.5 million for a pedestrian who suffered leg and buttock injury after being struck by a bus
$10.75 million for a pedestrian who suffered burn injury and brain damage after being struck by a truck
10 million for a pedestrian who became blind after being struck by a drunk driver
10 million for a woman who suffered leg injury after being struck by a bus
$7.125 million for a pedestrian who suffered severe personal injury after being struck by a car (read our blog on this case)
For more verdicts and settlements achieved by our firm in favor of pedestrians injured or killed in pedestrian accidents see our car accidents page or our Cases of Note page .
How to Know You're Working With the Best Pedestrian Accident Lawyer in NYC
When searching for the best pedestrian accident lawyer near you, it's important to pick an attorney who has vast experience in preparing and trying pedestrian accident cases. The top pedestrian accidents attorneys at Gair, Gair, Conason, Rubinowitz, Bloom, Hershenhorn, Steigman and Mackauf have all tried multi-million dollar cases and have a reputation for refusing to settle cases unless an adequate sum is offered which will fully compensate the plaintiff for the injuries and financial loss suffered.
Thousands of Pedestrians Are Injured or Killed Every Year in New York City
Every year in New York City and throughout the State thousands of pedestrians are injured or killed in motor vehicle accidents. In fact, over the past few years in New York City alone, hundreds of pedestrians have been killed as a result of being struck by a motor vehicle. According to the New York State government, although only about eight percent of the total traffic crashes in the state are pedestrian crashes, they are far more likely to result in serious injury or death. The majority of pedestrian crashes happen in urban areas with New York City accounting for 72% of the crashes and 59% of the fatalities involving a pedestrian.
Pedestrian knock down accidents are usually the fault of the drivers of motor vehicles. Among the more common causes are drivers who speed, run traffic signals or fail to yield the right of way to pedestrians, particularly those within a crosswalk when making a turn. More recently, inattentive or distracted driving has been identified as the most common cause of motor vehicle accidents in New York. This is often seen with cell phone use and texting or simply a driver not paying attention. ( See our blog posts for recent NYC pedestrian accidents and car accident statistics on a monthly and annual basis).

Laws exist both in New York City and New York State whose goal is to protect pedestrians from being the victims of motor vehicle accidents. Often, the key to the successful resolution of these claims is having an attorney familiar with the various sections of the New York State Vehicle and Traffic Law as well as the New York City Traffic Rules and Regulations as promulgated by the New York City Department of Transportation.
Additionally, unique, technical insurance laws may be implicated even if the victim of a motor vehicle accident is a pedestrian. It is imperative that an attorney be familiar with the insurance laws applicable to a given accident to insure that the victim receives the fullest recovery allowable under the law, even if that means the potential of recovery from a policy of automobile liability insurance purchased by the victim or certain members of the victim's family.
There are also laws that proscribe the time limits within which a person injured in an automobile accident must take certain steps to protect their legal rights or forever be prevented from proper and adequate compensation. Even a pedestrian struck by a Motor Vehicle may be entitled to have their medical expenses resulting from the motor vehicle accident paid for by the applicable No-Fault Insurance policy. In order to secure payment for those medical expenses, certain information and forms must be provided to the proper No-Fault Insurance provider within a limited time-period following a motor vehicle accident (typically 30 days). The failure to provide all the required information within the specific time limits may cause the denial of an injured person's right to payment of necessary medical expenses.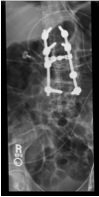 A pedestrian struck by a car necessitated a spinal fusion
As mentioned previously, pedestrian accidents often result in serious injuries. In many accidents, a pedestrian sustains what is commonly known as a "bumper fracture." This occurs when a car bumper hits the pedestrian's pelvis and legs shattering his or her bones. Another common injury involving pedestrians occurs when a pedestrian is "scooped" off the ground by the front of a car and smashed onto the hood and the windshield causing traumatic brain injury. Further compounding this injury is the natural reaction of the driver to step on the brake. This results in the pedestrian being thrown to the ground, causing further injury to the brain as well as spinal and pelvic injuries.
The personal injury attorneys at our firm have helped thousands of individuals and families suffering serious injuries or death as a result of a pedestrian being struck by a car, truck, bus or other motor vehicle. We retain expert accountants, financial analysts and economists because every personal injury case has its own set of associated costs, including pain and suffering, lost wages, the cost of care and many other monetary costs. In order to accurately assess what these costs will be for the remainder of a victim's life, we use financial professionals to derive fair resolutions for injury victims. Additionally where necessary we retain the best accident reconstruction engineers in the field. It is also often necessary to retain a biomechanical engineer where the cause of the injury is challenged.
Case Study: Pedestrian Injured by Negligent Driver in Manhattan
Our firm recently obtained a liability verdict in a case involving a young woman who, while crossing 42nd Street at 12th Avenue in Manhattan, was struck by a car. Specifically, on December 17, 2014, our client (a 19 year-old student) visited the Chinese Embassy to receive a visa. After leaving the Embassy, our client proceeded to cross 42nd Street, southbound, to get an Uber to head east across town. While crossing the street, she was struck by the passenger-side mirror of a car which was purportedly turning left to go south on 12th Avenue. Our client was taken by ambulance from the scene to St. Luke's-Roosevelt Hospital Center, where an X-ray and CT scan showed a displaced fracture of her left (non-dominant side) clavicle and fractures to the third, fourth and fifth metatarsals of her left foot. She was fitted with a sling and boot and chose to forgo surgery because of her young age. Instead, our client recovered at home with her family and was non-weightbearing for several weeks.
An action was commenced in Queens Supreme Court against the driver, alleging the driver was negligent and careless in operating his vehicle. The vehicle had a limited policy and the full policy was demanded. The insurance company refused to pay the policy and offered only $15,000, arguing that the plaintiff did not have surgery, made a good recovery, and was running across 42nd Street, outside of the crosswalk, at the time of the crash. Defendant's offer was rejected and the case proceeded to trial before the Hon. Leslie J. Purificacion. As the trial was bifurcated, the issue of liability was tried first. (In a bifurcated trial, the issue of fault is tried to a jury first; once a jury decides on fault, the case proceeds to a separate trial on damages).Prior to trial, our firm made a motion in limine (a motion made at the time of trial to request that certain evidence be excluded) to keep out a portion of the ambulance call report which stated, in part: "Pt. stated 'I guess I didn't look to the left for a second.'" Our attorneys argued this statement was hearsay and was not admissible under the business record exception. The Court agreed and that portion of the ambulance call report was held inadmissible.Following opening statements, our firm called the defendant driver as the first witness. Under cross-examination, the defendant driver flip-flopped with his testimony – at times arguing that our client ran into his car and, at other times, testifying that he never saw our client prior to striking her. The defendant driver further claimed that because our client was struck by the side view mirror, this was evidence that our client was not paying attention as she crossed and ran into the side of his car.After the defendant driver testified, we called a non-party witness who was sitting in his car on 42nd Street, facing the crosswalk, at the time of the incident. This witness testified at trial that our client was crossing with the light and walking (not running), but claimed she was crossing outside of the crosswalk. However, our client testified that she was crossing in the crosswalk, with the light in her favor, when she was hit by the car. Our client also testified that she was walking, not running.
At Trial Our Accident Attorneys Obtained the Full Insurance Policy and Additional Monies by the Negligent Driver
Following summations and the charge by the judge, the jury began deliberations. After only 25 minutes of deliberating, the jury unanimously found the defendant driver to be 100% negligent – and our client free from fault. The insurance company then tendered the full policy, which was promptly rejected. Just prior to commencement of the damages portion of the trial, and with our client ready to call her expert orthopedist, the defendant agreed to pay personal money in addition to the insurance policy. It is very rare for an attorney to obtain personal assets above the insurance policy limits, but the fact that such an outcome was achieved here is indicative of the skill with which our firm handled this case.It was through our firm fighting for our client and taking the case to trial that we were successful in securing, not only the full policy, but also additional monies paid directly by the driver to our client.
The pedestrian injury attorneys at Gair, Gair, Conason, Rubinowitz, Bloom, Hershenhorn, Steigman & Mackauf advocate for our clients' full financial recovery through detailed, meticulous preparation for trial. If you or a loved one has been injured in an automobile, truck or bus accident, please contact our firm to discuss your case.