Hiring a New York Personal Injury Lawyer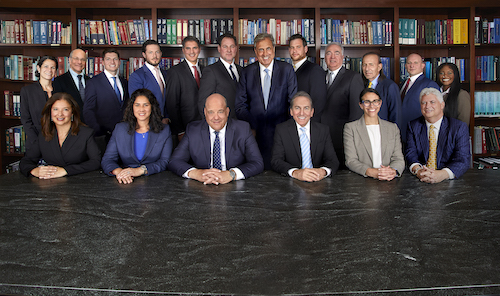 For the last 100 years, the NYC Personal Injury Lawyers at Gair, Gair, Conason, Rubinowitz, Bloom, Hershenhorn, Steigman & Mackauf have represented clients who have suffered serious personal injury or death as a result of other people's negligence. Since our firm is selective in the cases that we agree to handle we put in all of the time and money that is required to maximize the ultimate recovery for the injury suffered and believe that over the years our results are unsurpassed. Call us at 212-943-1090 for a free consultation.

Recently 3 of our attorneys, Ben Rubinowitz, Anthony Gair and Howard Hershenhorn have been selected by Forbes as the "Best Personal Injury Lawyers in New York City". We are the only injury law firm in New York City that has as many attorneys listed in this prestigious and reliable list of the top 15 injury attorneys in NYC.

How Do I Know if I Have a Personal Injury Case?
If you have been injured as the result of the negligence of another person or entity, liability and the damages are the two main bases to establish if you have a case. In order to file a personal injury claim in New York, the plaintiff must be able to prove that the defendant is liable for the injuries and if so what are the nature and the extent of the damages. If these two elements can be proven you may have a case and we recommend you contact a personal injury lawyer to discuss it.
How Do I Pick the Right Personal Injury Attorney for My Case?
When choosing a personal injury lawyer, it's important to ask the right questions to make sure you find someone who is experienced, qualified, and a good fit for your needs. Here are 10 questions you might want to consider asking during your consultation:
What is your experience handling personal injury cases?
What percentage of your practice is devoted to my type of case, and how many cases like mine have you handled in the past?
What is your success rate in settling or winning personal injury cases, and what types of settlements or verdicts have you obtained for clients with similar injuries to mine?
How do you communicate with your clients and keep them informed about their case?
What fees do you charge, and how are they structured? Do you work on a contingency fee basis, which means you only get paid if you win the case, or do you charge hourly or flat rates?
Who will be handling my case, and will it be you or someone else in your firm?
How long do you anticipate my case will take to resolve, and what steps will you take to move it forward as quickly as possible?
Can you provide me with references or testimonials from previous clients?
Will you be able to negotiate with the insurance company on my behalf, or do you anticipate taking my case to trial?
What is your approach to settlement negotiations, and how do you balance the need to reach a fair settlement with the need to protect my interests?
What Damages are Subject to Compensation in a NY Personal Injury Case?
While every case is different, the most common damages claimed in a New York personal injury lawsuit are the pain and suffering endured as a result of the injury, the loss of wages related to the injury and medical expenses (current and future).
How is the Pain and Suffering Compensated in a Personal Injury Claim in New York?
Pain and suffering are non-economic damages sustained by the negligence of the defendant. Under New York Law the amount that can be recovered for pain and suffering varies greatly from case to case. If your case is settled out of court, your attorney will negotiate with the defendant the amount of the compensation for pain and suffering. The value of your case depends on many factors including the liability of the negligent defendant, the severity and permanency of your injury and the loss of income as a result of the injury. In evaluating your case your attorney will compare monetary awards in similar cases. If your case goes to trial, the jury will decide what amount will be awarded for pain and suffering. Your attorney will present expert testimony by among others, physicians, economists and life care planners. Each case is of course different and the experts retained by your attorney will depend on the facts of the particular case.
How Much Does a Consultation With a NYC Personal Injury Attorney Cost?
A consultation with a personal injury lawyer to discuss a potential case is usually free as personal injury lawyers usually handle cases on a contingent fee bases. It means that a personal injury lawyer doesn't charge by consultation but will take a percentage on the amount recovered, usually 33.33%.
How Can a Personal Injury Lawyer Help?
Throughout the years, our personal injury attorneys have successfully represented individuals and families in New York who suffered injury by the negligence or recklessness of others and we understand how devastating and overwhelming it can be to deal with mounting costs and suffering caused by serious personal injury. We retain the very best experts including accident reconstructionists, biomechanical engineers, medical doctors, forensic pathologists, economists and other experts from the various disciplines involved in the case because every personal injury case requires the plaintiff to prove both liability and damages. Each case has its own set of associated costs, including pain and suffering, lost wages, the cost of care and many other monetary costs and these must be clearly demonstrated. Our trial lawyers will document and preserve any evidence necessary to prove your case and meticulously prepare your case for trial.
What is the Speaking Agent Act in NY State and how does it influence my personal injury lawsuit?
The Speaking Agents Act (S.7093/A.8040), which became law on December 31, 2021 amends the rules of evidence to allow the admission of an opposing party's statement if made by an employee or party's agent as long as it relates to a matter occurring during and within the scope of that relationship.
Previous to this amendment, employees' statements could only be accepted as evidence if they were made by a "speaking agent" who was a high-level management person.
This outdated rule led to very unfair rulings over the years. In a case that occurred before the new law was enacted, the Appellate Division, Second Department ruled that a nurse statement about how long a plaintiff waited in an emergency room before being treated was admissible against her but not against the hospital. (Read More about the Speaking Agents Act)
How Can Social Media Affect Your Personal Injury Case?
Social media can have a devastating effect on the outcome of your case. Anything that you post on social media while your case is ongoing can be used against you by the defense attorney. We always ask our clients not to discuss their case on social media and avoid posting pictures of their activities while their cases are ongoing. You should also be mindful of what your family and friends are saying or posting about you on social media.
What are Some of the Recent Personal Injury Verdicts and Settlements Obtained by the Attorneys at Gair, Gair, Conason, Rubinowitz, Bloom, Hershenhorn, Steigman & Mackauf?
$103,000,000 verdict (one of the largest ever) in a Broome County medical malpractice case on behalf of a baby brain damaged at birth.
$90,939,857 jury verdict in a medical malpractice claim for a child whose cerebral palsy was due to the failure of an obstetrician to diagnose placental abruption and who thus delayed the cesarean section that was necessary to rescue the baby who was suffering from a lack of oxygen.
Gair, Gair, Conason, Rubinowitz, Bloom, Hershenhorn, Steigman & Mackauf was named as Lead Counsel for the case involving fire at Stouffer's Hotel in Westchester County. We represented the estates of 11 members of the Board of Directors of a Fortune 500 Company killed in the fire. Case settled for more than $50,000,000.
$59,200,000 verdict for a former New York City high school student who suffered devastating burns during a botched chemistry experiment.
$27,500,000 verdict for a pedestrian struck by a bus. The pedestrian suffered the loss of her leg. This is the largest verdict for such an injury in New York State history.
$26,000,000 settlement for the family of a 35 year old woman who was a pedestrian struck and killed by a truck on 6th Ave in Manhattan. This is believed to be the largest settlement in the history of New York for the wrongful death of one individual.
Gair, Gair, Conason, Rubinowitz, Bloom, Hershenhorn, Steigman & Mackauf was named as Lead Counsel for the explosion on Ann Street resulting in 12 deaths and multiple personal injuries. The case settled for $18,000,000.
$17,250,000 verdict for a man who was rendered partially incontinent as a result of medical malpractice in failing to diagnose a spinal malformation.
$16,000,000 settlement an asbestos handler/construction worker who fell 25 feet from a scaffold at the former Pepsi bottling plant in Long Island City.
Gair, Gair, Conason, Rubinowitz, Bloom, Hershenhorn, Steigman & Mackauf was named as Lead Counsel for the Grammercy Park Explosion, the case settled for $14,000,000.
$14,000,000 settlement on behalf of tenants injured as a result of the negligence of Con Edison when a pipe exploded.
$12,500,000 verdict for the wife of a parking garage employee who fell from and was killed by a man lift while at work.
$12,500,000 verdict on behalf of a pedestrian who suffered degloving injuries to her leg and buttocks after being struck by a bus.
$12,000,000 settlement for a man who was over radiated by the radiation center where he was treated for cancer.
$10,750,000 settlement against a Japanese shipping company for negligence in maintaining their tractor trailer allowing the rear wheels to break off striking a pedestrian and causing severe burns and mild brain damage.
$10,000,000 settlement for a woman rendered blind as a result of being struck by a drunk driver.
$10,000,000 settlement in Nassau County for a woman who suffered severe personal injury to her legs as a result of the negligence of a bus driver.
$9,500,000 million settlement for brain damage to a professional young woman who had surgery for her uterine fibroids but then but then had her endotracheal tube removed prematurely so that she stopped breathing on her way to the recovery room.
$8,000,000 settlement in a medical malpractice case in which a woman was rendered brain damaged as a result of anesthesiologic malpractice.
$8,000,000 settlement in a medical malpractice case for a woman who contracted vulvulus (an intestinal blockage) following colon surgery.
$8,000,000 settlement on behalf of an 18-year old boy in a medical malpractice lawsuit where a physician prescribed the medication Depakote without monitoring the boy's liver functions despite the known effects of Depakote on the liver. As a result of the failure to monitor the liver functions, the plaintiff sustained complete liver failure requiring a liver transplant and a hepatic encephalopathy resulting in brain damage.
$7,000,000 settlement for a 68 year old man who was struck by a Town of Parsipanny bus that turned into him while he was crossing the street. The Judge stated that he believes this was the highest settlement ever in any personal injury case he has handled in the last 20 years in Morris County N.J.
$7,000,000 settlement on behalf of five people who suffered leg injuries in an elevator accident caused by negligent maintenance of the elevator support cable.
$6,100,000 settlement in a Dutchess County medical malpractice case involving the death of a woman after giving birth.
$6,000,000 settlement in Bergen County, New Jersey.Our Car accident lawyer NYC settled a combination car accident / medical malpractice case for a 61 year old woman who sustained a herniated disc as a passenger in a car accident. She subsequently underwent a neurosurgical procedure to remove the herniated disc during which the surgeon slipped and lacerated the dura of her spinal cord.
$5,800,000 settlement for a man who suffered paraplegia as a result of a fall from a scaffold when it was struck by a hi-lo.
$5,000,000 settlement in a New York Personal Injury case for injury suffered by the plaintiff when a fire escape on which he was standing collapsed causing him to fall 30 feet to the ground.
TOP 2019 NY VERDICT UPHELD BY JUDGE IN 2020
In August 2020, a judge upheld a personal injury verdict of almost $60 million that our attorneys obtained for a young man who suffered devastating injuries during a botched chemistry demonstration at a NYC High School. The verdict was also the #1 School Injury verdict in NY State in 2019. The victim was a 16 year old boy who was burned alive and spent months in hospitals undergoing very painful treatments. Sadly, he will never fully recover and will have to deal with physical and emotional pain and suffering during the rest of his life.

Largest Jury Verdict in NY State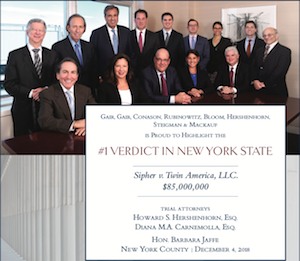 In December 2018, our NY injury attorneys obtained an $85 million verdict for a pedestrian who suffered catastrophic injury after being hit by a tour bus in Manhattan. This verdict is the highest verdict awarded by a jury in New York State and the 25th highest in the US in 2018. The victim was awarded by the Manhattan Supreme Court jury $45 million for past pain and suffering and $40 million for future pain and suffering. The 54 year old pedestrian was in the crosswalk with the light in his favor when a red double decker sightseeing bus tour struck him and seriously injured him. He spent 78 days in the hospital and sustained 11 operations. The victim is now able to walk with a brace but will sustain constant pain for the rest of his life.
A few month earlier, in September 2018, our personal injury lawyers obtained $27.5 million sex abuse settlement paid by the Brooklyn Diocese. This is one of the highest settlement paid in the country by the catholic church for clergy abuse and sexual abuse.
2 of the Top 3 NY Personal Injury Verdicts in 2017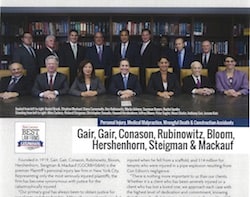 In 2017, our accident attorneys obtained a $71 million verdict for a client who suffered a spinal injury in a car accident and a 41.5 million verdict for a man who was fatally struck by a truck. These verdicts were the second and third highest personal injury verdicts obtained in the entire State of New York in 2017.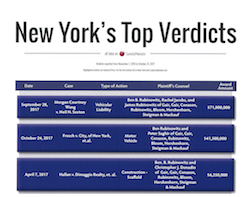 A total of 6 verdicts obtained by our firm were listed in the 2017 Top New York Verdicts as seen in New York Magazine. No other firm in New York had that many verdicts listed in the 2017 Top New York Verdicts. Year after year our attorneys are selected by Leaders in the Law as New York's Leading Personal Injury Lawyers.
Top 10 Personal Injury Lawyer in New York Metro

Our managing partner Ben Rubinowitz was named Top 10 2023 New York Metro Super Lawyers and our senior partners Jeffrey Bloom and Howard Hershenhorn were included in the top 100 2023 New York Metro Super Lawyers. A total of 12 of our attorneys were listed as Super Lawyers in 2023.

9 of our attorneys have been listed in the 2024 Best Lawyers in America as seen in New York Magazine: Ben Rubinowitz, Jeffrey Bloom, Howard Hershenhorn, Richard Steigman, Marijo Adimey, Peter Saghir, Christopher J. Donadio, Diana M. A. Carnemolla and Allan Zelikovic have all been recognized as Best Lawyers and each of these attorneys have achieved multi-million dollar recoveries on behalf of their clients in personal injury cases. 4 of our young attorneys (Rachel Jacobs, James Rubinowitz and Richard Soldano) were included in the 2024 list of the Best Lawyers, Ones to Watch. Recently Best Lawyers named Ben Rubinowitz 2024 Lawyer of the Year twice (for Personal Injury and Product Liability, Richard Steigman 2022 New York Medical Malpractice Lawyer of the Year, Howard Hershenhorn 2020 NYC Personal Injury Lawyer of the Year.

Our firm is highly experienced in handling personal injury involving:
At Gair, Gair, Conason, Rubinowitz, Bloom, Hershenhorn, Steigman & Mackauf, our NYC Personal Injury Lawyers have excellent reviews and aggressively work to help you and your family pursue compensation for your injuries. If you have been injured due to the negligence of another, please contact our firm to discuss your case.
Disclaimer:Please be advised that the results achieved in any given case depend upon the exact facts and circumstances of that case. Gair, Gair, Conason, Rubinowitz, Bloom, Hershenhorn, Steigman & Mackauf cannot guarantee a specific result in any legal matter. Any testimonial or case result listed on this site is based on an actual legal case and represents the results achieved in that particular case, and does not constitute a guarantee, warranty or prediction of the outcome of any other legal matter.