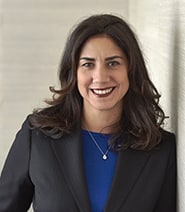 Marijo C. Adimey
Partner
For the past nineteen years, Ms. Adimey has devoted her legal career to litigating on behalf of those who have suffered loss. She began her career as an Assistant District Attorney in Bronx County, where for five years she prosecuted cases on behalf of the residents of Bronx County who were the victims of horrific crimes. There, she became an experienced trial attorney, trying dozens of misdemeanor and felony trials to verdict.
Prior to joining our team, Ms. Adimey had the privilege of representing individuals who have had the unfortunate experience of being the victim of medical malpractice or who have suffered serious physical injury or death in an accident. She continued her zealous representation in 2014 when she joined Gair Gair Conason, Rubinowitz, Bloom, Hershenhorn, Steigman & Mackauf whereat her trial advocacy and litigation skills have resulted in numerous settlements and verdicts on behalf of her clients. Ms. Adimey is honored to be a voice for those who have suffered immeasurable loss, and to work towards obtaining compensation for them.
Ms. Adimey's advocacy skills and dedication to her clients was recognized in 2013, when she was selected by her peers for inclusion in the Super Lawyers 2013: Rising Stars, an honor reserved for those lawyers who have exhibit excellence in practice and which was published in the Magazine Section of the New York Times. In both 2012 and 2013 she was awarded the Client Distinction Award issued by Martindale-Hubbell, an honor made possible by the clients she served. Ms. Adimey received a rating of 4.5 or higher on a scale of 1-5. Less than 1% of the 900,000+ attorneys listed on martindale.com have been awarded this score. Ms. Adimey holds an "AV" rating (highest rating) from the Martindale-Hubbell Law Directory, which is one of the oldest and best-known catalogues of lawyers in the United States. In 2015 and 2016, she was selected as one of the "Best Lawyers in America" as well as one of New York Metro's "Super Lawyers".
Ms. Adimey was appointed by the Administrative Judge for Civil Matters-First Judicial Department, as an attorney member of the Medical Malpractice Advisory Committee for the Supreme Court, Civil Branch, New York County. This appointment is reserved for attorneys whom the court considers to be "prominent." Ms. Adimey works with the Justices who preside in the New York County Medical Malpractice Parts to help the court function as effectively as possible. She is a strong voice for everyday people who have been victims of negligent medical care. Ms. Adimey was also selected to serve a two-year term on the Judiciary Committee of the Association of The Bar of The City of New York, a committee which evaluates judges up for appointment, reappointment, election or reelection on the city, state and federal level and makes recommendations for approval.

In 2017, Ms. Adimey was named one of the Top Women Litigators by Super Lawyers. In addition, she was nominated and accepted to become a Board Member of the New York State Trial Lawyers Association. Ms. Adimey also sits on the Medical Malpractice Litigation Committee of NYSTLA.

Ms. Adimey performs all aspects of the litigation of medical malpractice and personal injury cases in New York and New Jersey from inception through, and including, trial. Her combination of hard work, dedication, conviction and attention to detail is reflected in everything she does and was recognized in January 2017 when she became a partner at the firm. Her passion and commitment to her clients is what makes her a zealous trial attorney. She is a tremendous asset to the GGCRBHS&M team.

Education
J.D., Western New England University School of Law, 1998
B.A., Syracuse University, 1995
Jurisdictions Admitted to Practice New York, 1999
New Jersey, 2005
U.S. District Court, Eastern and Southern Districts of New York, 2003
U.S. District Court, District of New Jersey, 2005

Professional & Bar Association Memberships
New York State Bar Association
New Jersey Bar Association
Association of the Bar of the City of New York
New York State Trial Lawyers Association
Board of Directors
New York Women's Bar Association
Association of Trial Lawyers of America
New Jersey Association for Justice
The LGBT Bar Association of Greater New York
VERDICTS AND SETTLEMENTS OF NOTE
$11.5 million settlement during trial in New York County for a 39 year old woman who developed a thiamine deficiency following bariatric surgery. The thiamine deficiency went undiagnosed during a hospitalization for almost two weeks, resulting in the development of Wernicke's Encephalopathy and permanent brain damage.

$1.65 million settlement during trial in Staten Island for a 45 year old man whose influenza went undiagnosed and untreated, resulting in severe respiratory distress, multi-system organ failure, joint contractures and extensive Surgery.

$750,000 jury verdict in a medical malpractice action in NY County involving an arterial injury during spinal surgery, resulting in massive hemorrhaging, placement of stent, infection and prolonged pain and suffering.

$650,000 jury verdict in Kings County involving a fractured hip sustained when a patient who required one on one supervision was left unattended and fell from her hospital bed. The plaintiff underwent surgical repair of the hip, revision surgery, impairments of daily living and prolonged pain and suffering.

$7.5 million settlement on behalf of an infant who suffered brain damage during delivery at a hospital in Long Island.

$3.35 million settlement on behalf of an Upstate man whose leg had to be amputated above the knee after a catheter used to administer medications was placed into his artery instead of his vein and not diagnosed for over 18 hours, causing the effected leg to be ischemic.

$2.5 million unanimous verdict for a 57 year old woman who suffered an intestinal perforation of the duodenum during a diagnostic EGD, also known as an upper endoscopy. As a result of the doctor negligence, the woman suffered excruciating pain and had to be brought back to the hospital. After CT scans suggested sepsis, surgeons had to perform life-saving surgery of her abdomen. See more about this case here


$2.5 million settlement for a young woman who lost her husband when his treating physicians failed to advise him of an abnormal finding observed on a CT scan for almost 10 months, leading to an advanced stage illness and causing him untimely death.

$2.3 million settlement on behalf of a 53 year old woman whose breast cancer went undiagnosed by radiologists who performed her mammograms. The delay of a year and a half resulted in metastasis and a diminished life expectancy.

$1,270,000 unanimous jury verdict in Kings County for a 64 year old woman whose spleen was torn from her colon during a routine, screening colonoscopy. As a result of the excessive blood loss from the splenic rupture, she went into hemorrhagic shock and required an exploratory laparotomy to have her entire spleen removed. Read more about this case here


$1.2 million settlement in New York County for a 34 year old man whose synovial sarcoma went undiagnosed for more than two years, despite radiologicial studies indicating a cancer in the differential workup and the need for further workup. As a result of the delay in diagnosis, the cancer spread to the young man's lungs and rendered his disease incurable.

$750,000 settlement for an elderly man who sustained a perforated intestine during a Fleet Enema performed in an ER, where the man presented with complaints of constipation. As a result of the malpractice, the gentleman is left with a permanent colostomy.

$750,000 settlement for a worker whose leg was crushed in between two dollies when a co-worker was negligently operating a fork-lift.

$675,000 Settlement in Richmond County on behalf of the adult children of a 51 year old man after a negligently performed chest tube insertion, resulting in bronchopneumonia and anoxic-ischemic encephalopathy, and ultimately death.

$500,000 settlement for a woman who sustained a permanent foot drop after a resident, under the supervision and control of an attending surgeon, misplaced three (3) pedicle screws during a laminectomy procedure.

$300,000 Arbitration Award for a woman who sustained a Right Rotator Cuff Tear during in a MV accident in which she was the passenger. She required surgical intervention and extensive physical therapy following the accident, but was still left with limited mobility and range of motion.
PUBLICATIONS/LECTURES
"Taking a Meaningful Defendant Deposition": New York State Bar Association, "Keep Current with NY Automobile Litigation", February 2018