Colon Cancer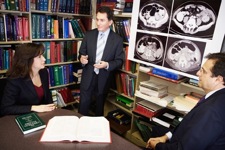 The key to successfully fighting colon cancer is early detection. Colon cancer symptoms can share the characteristics of other conditions, so proper testing by doctors is essential. Tests such as a colonoscopy and a barium enema x-ray are commonly used by the medical profession to detect colon cancer. Many times doctors fail to even order these crucial tests. There are also situations where the proper tests are ordered, but the radiologist misreads the film or the pathologist misreads the slide, leading to a crucial delay in making the diagnosis. Delay in diagnosing colon cancer can worsen the treatment or prognosis or can even be fatal.
Our team of attorneys includes a board-certified physician and a professional registered nurse who can assist in reviewing your case and help you to understand the full medical scope of your claim. Our firm conducts exhaustive investigations, and we retain the most qualified experts to bring a comprehensive level of expertise to surpass that on the other side. When a doctor fails to diagnose colon cancer, we seek out and retain a practicing colon cancer specialist to determine the full circumstances of the misdiagnosis and in the event of a misread barium enema x-ray, we will find an expert radiologist to examine the films.
If necessary, we also retain expert accountants and financial analysts because many medical malpractice cases have their own set of associated losses including lost wages, the cost of care and many other monetary costs. In order to accurately assess what these costs will be for the remainder of a victim's life, we use financial professionals to derive fair resolutions for injury victims.
If your colon cancer went undiagnosed by a doctor or was misdiagnosed, please contact our firm to discuss your case.
Disclaimer: Please be advised that the results achieved in any given case depend upon the exact facts and circumstances of that case. Gair, Gair, Conason, Rubinowitz, Bloom, Hershenhorn, Steigman & Mackauf cannot guarantee a specific result in any legal matter. Any testimonial or case result listed on this site is based on an actual legal case and represents the results achieved in that particular case, and does not constitute a guarantee, warranty or prediction of the outcome of any other legal matter.