New York Truck Accident Lawyer Near You
The New York truck accident attorneys at Gair, Gair, Conason, Rubinowitz, Bloom, Hershenhorn, Steigman & Mackauf have been litigating trucking accidents for over 100 years. They have obtained record-setting verdicts and settlements for their clients. Call us at (212) 943-1090 for a free consultation.
Have You Been Injured in a Truck Accident?
Based in Manhattan and handling cases in New York Metro area, NY, and NJ our firm represents victims and their families in cases that include but are not limited to:
Big Rig, 18 Wheeler, Tractor-Trailer Accidents
Commercial Semi Truck Accidents
School Bus Accidents
Cargo Trucks Accidents
Tow Trucks Accidents
Fuel Trucks Accidents
Concrete Trucks Accidents
Box Truck Accidents
Sweeper Truck Accidents
How Much Does a Truck Accident Lawyer Cost?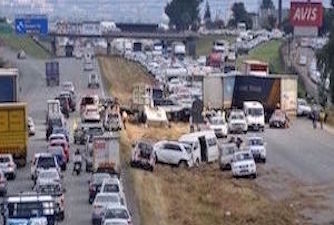 A consultation with a truck accident lawyer to discuss a potential case is usually free as our attorneys usually handle truck accident cases on a contingent fee bases. It means that a truck accident attorney does not charge by consultation but will take a percentage on the amount recovered, usually 33.33%. Meaning the cost of a truck accident lawyer varies based on the amount they're about to recover for you.
How to Choose the Best Truck Accident Lawyer?
If you're looking for "the best truck accident attorney near me", it might be hard to know what law firm is right for you. The damages caused by truck accidents are often significant, therefore it is crucial that victims of truck accidents be adequately represented in order to be fully compensated. Our attorneys have an in-depth understanding of all relevant regulations and laws, such as the Federal Motor Carrier Safety Administration Regulations, New York Vehicle & Traffic Law and the New York State Department of Transportation Regulations. For example, the Federal Motor Carrier Safety Administration, which is part of The United States Department of Transportation, has the authority to promulgate safety regulations which govern Commercial Truckers and Companies. There are numerous safety regulations which apply depending on the classification of the truck involved. Further, there are many regulations governing drivers, including mandatory medical examinations, limits on hours per shift, drug testing and many more. If you or a loved one were injured or even killed in a tuck accident, you need hire the best truck accident attorney near you with experience in dealing with all relevant regulations and laws.
How Do the Top Attorneys Investigate Truck Accidents?
In addition to having an understanding of traffic laws, our NYC truck accident attorneys have vast experience in performing independent investigations of trucking accidents. By interviewing witnesses, photographing the scene, obtaining surveillance video of the accident and obtaining accident reconstruction experts, Our New York City truck accident lawyers uncover all necessary evidence to build the strongest possible cases for their clients. There are numerous documents which must be obtained including, Driver's Log Book, Trip Sheet, Route Schedule, and Time Card, all drivers' logs, manifests and other documents prepared by or on behalf of the driver for the period of 30 days prior to and including the date of the accident. Additionally inspection reports must be requested, among them, Inspection reports prepared for the truck, involved in the occurrence, including the inspection report for the date of accident, the first inspection report and checklist for the truck following the accident. Our truck accident injury lawyers near you have decades of experience which enable them to quickly identify the documents critical to a successful resolution of the case.
What Type of Damages Are Compensated in a Truck Accident Lawsuit?
Once the negligence truck accident claim has been established, victims of truck accidents and their family may obtained compensation for the past and future pain and suffering caused by the accident, the medical bills including physical therapy and at-home nursing care, the potential loss of actual and future earnings. To make sure our clients obtained maximum compensation we retain expert accountants and financial analysts because every truck accident lawsuit has its own set of associated costs. We use financial professionals in order to accurately assess what these costs will be for the remainder of our client's life and his or her family.
Our Truck Accident Attorneys Have Obtained Record Setting Verdict and Settlements for Their Clients
The experience of our attorneys in handling trucking accident cases is demonstrated by some of our our recent settlements and verdicts:
$41,500,000 verdict for the wife and the 4 children of a NYC sanitation worker who was fatally struck by a street sweeper. This is one of the largest wrongful death award in Queens County. Read more about this truck accident case

$26,000,000 settlement for a 35 year old mother of a new born infant struck and killed by a truck on 6th avenue in Manhattan. This is believed to be the highest settlement for any wrongful death case involving one person in New York State history.
$11,750,000 cash settlement recovered against a Japanese based freight carrier for a Manhattan woman hurt when the wheel of a tractor trailer fell off and hit her.
$10,775,000 for a woman who sustained a brain injury after she was struck by two tires which came off of a moving tractor trailer.
$5,000,000 recovery for the widow of a physician killed in an NYPD tow truck accident.
$4,800,000 verdict for the wrongful death of a 8 year old child killed as the result of the negligence of a truck driver.
$1,500,000 settlement for a woman who was suffered hand injury when her vehicle was rear-ended by an asphalt truck whose brakes were not maintained properly.
$1,500,000 in a New York truck accident case against a manufacturer when its truck struck a young student crossing a street in Jersey City.

Upsurge of Truck Accidents in New York City and in the U.S.
As recently reported by the Truck Safety Coalition truck cash fatalities increased by 13% in 2021 compared to 2020. According to the National Highway Traffic Safety Administration early estimates for 2021, 5,610 people died in truck accidents in the US in 2021. This is an increase of 52% in truck crash fatalities since 2010.

In New York State, according to the most recent statistics, 84 people died in truck accidents in 2020.
In New York City, truck accidents are also on a rising trend. Trucks are particularly dangerous in NYC as they have to share the road not only with other motor vehicles but also with pedestrians, cyclists and other micro-mobility device users. Truck crashes are twice as likely as cars to result in serious injury or death for cyclists and pedestrians. Indeed 67% of the truck accidents involving a pedestrians or a cyclist result in serious injury or death.
After peaking at 642 in April 2021, the number of truck accidents has consistently remained below 600 for the month of April. In April 2022, there were 585 truck accidents, followed by 587 in April 2023. The preceding month, March 2023, recorded 575 truck accidents in New York City according to the NYPD. Truck accidents pose a significant concern due to their association with a high number of fatalities and serious injuries. As online ordering continues to grow, truck deliveries have increased throughout the city, resulting in safety issues primarily for cyclists and pedestrians.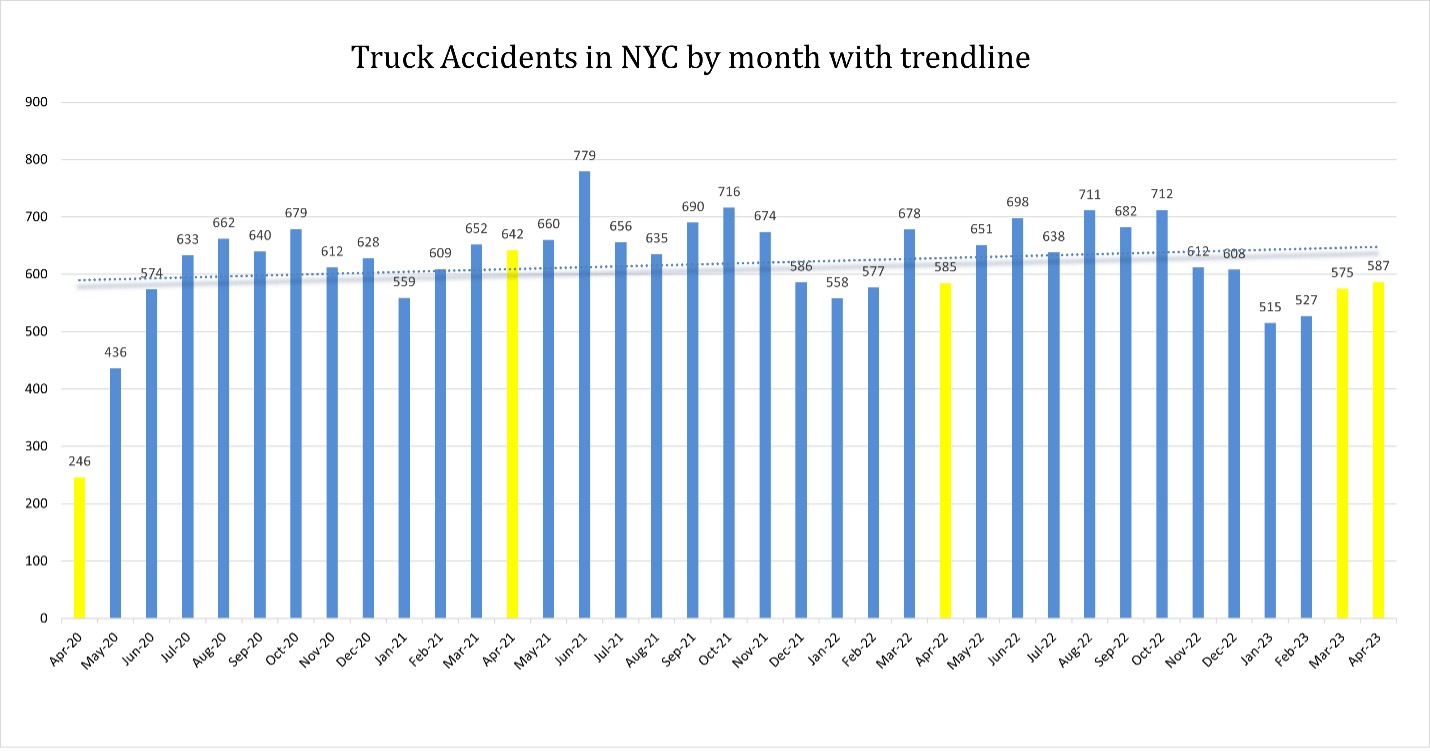 Garbage Truck Accidents Lawyers in New York
Private garbage trucks are particularly dangerous in New York City. Because of low margins and fierce competition, many private waste haulers are operating old and unsafe trucks. Drivers are working extended hours to service multiple businesses on extremely long routes and regularly rack up violations for speeding, running red lights and other reckless behavior. As a results an unusual high numbers of pedestrians and other other road users are involved in accidents with private trash haulers. A recent analysis by New York City Comptroller Scott Stringer found that over the last two years private garbage trucks were involved in 73 serious crashes including 5 deaths. As a comparison, New York City's municipal sanitation fleet recorded one fatal accident last year after four years without a deadly accident.
Many garbage truck accidents occur due to the negligence of the operators of the trucks and/or the trucks 'owners. In order to successfully bring a lawsuit based on a garbage truck accident or any other truck type, it is critical to hire a personal injury lawyer NYC that has a firm grasp of all trucking regulations and laws.
The New York Personal Injury Lawyers at Gair, Gair, Conason, Rubinowitz, Bloom, Hershenhorn, Steigman & Mackauf advocate for our clients' full financial recovery through detailed, meticulous preparation for trial. If you have been injured in a truck accident in or near New York City, please contact our firm to discuss your case.
Disclaimer: Please be advised that the results achieved in any given case depend upon the exact facts and circumstances of that case. Gair, Gair, Conason, Rubinowitz, Bloom, Hershenhorn, Steigman & Mackauf cannot guarantee a specific result in any legal matter. Any testimonial or case result listed on this site is based on an actual legal case and represents the results achieved in that particular case, and does not constitute a guarantee, warranty or prediction of the outcome of any other legal matter.