E-bike Accident Lawyer in New York
Your Trusted Legal Partner for Electrical Bicycle Accident Claims
Welcome to the premier destination for expert legal representation in New York for e-bike accident cases. The experienced team of e-bike accident lawyers at Gair, Gair, Conason, Rubinowitz, Bloom, Hershenhorn, Steigman & Mackauf is dedicated to protecting your rights and ensuring you receive the compensation you deserve. Navigating the legal complexities of e-bike accidents in New York can be challenging, but we are here to guide you every step of the way. Call us at (212) 943-1090 for a free consultation.
Why Choose the Electrical Bicycle Accident Attorneys at Gair, Gair, Conason, Rubinowitz Bloom Hershenhorn, Steigman & Mackauf?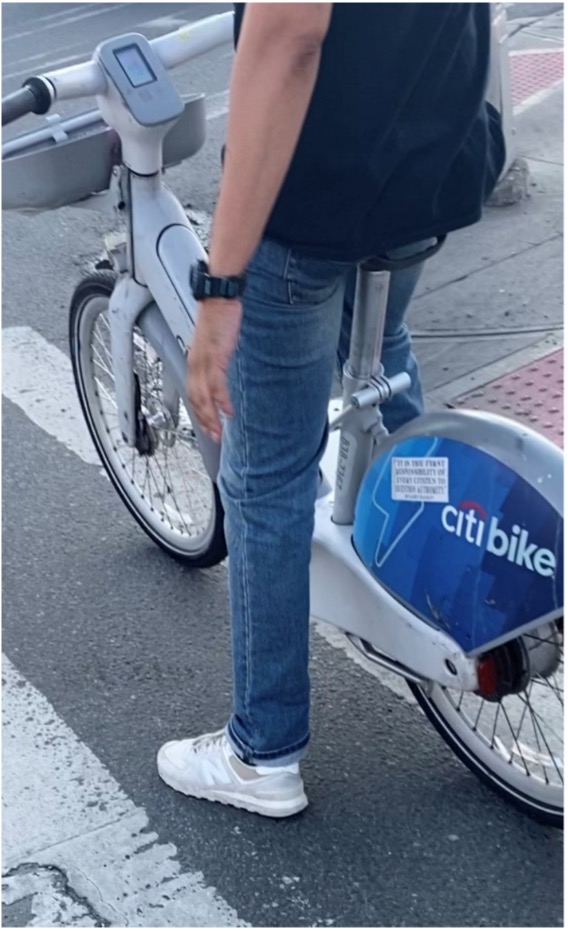 When selecting a personal injury attorney for your e-bike accident claim, it's crucial to ensure you are choosing a trial attorney with a proven track record in handling bicycle accident cases in New York. Unlike many other bike accident attorneys who may claim to be "trial attorneys" but tend to prioritize settling cases over taking them to trial, our legal team boasts extensive experience in meticulously preparing and successfully trying bicycle accident cases.
One of the primary factors contributing to our e-bike attorneys consistently achieving superior results for our clients is our unwavering commitment to the possibility of trial. The defendant's insurance companies are well aware that our attorneys are prepared to take cases to trial if the offered settlement does not represent fair and just compensation for our clients. Our personal injury law firm has cultivated a longstanding tradition of exceptional trial advocacy, and this dedication to achieving justice was recently recognized when our managing partner, Ben Rubinowitz, was honored with the prestigious title of "Personal Injury Lawyer of the Year" by Best Lawyers for 2024.
Our attorneys have an in-depth understanding of New York's laws and regulations related to e-bikes and accidents, giving us an edge in handling your case.
We work on a contingency fee basis, which means you only pay us if we win your case. Our aim is to make justice accessible to all.
Our e-bike accident lawyers offer comprehensive services tailored to your needs:
Case Evaluation: We offer a free initial consultation to assess the merits of your case and discuss your legal options.
Thorough Investigation: Our team conducts a meticulous investigation, collecting evidence such as witness statements, accident reports, and expert opinions.
Negotiation: We negotiate tirelessly with insurance companies and liable parties to secure a fair settlement that maximizes your compensation.
Litigation: If necessary, we are well prepared to advocate for you in court, ensuring your rights are protected.
Types of E-Bike Accidents handled by our bicycle accident attorneys
Vehicle Collisions: Accidents involving cars, trucks, and other vehicles.
Defective E-Bikes: Cases where a faulty e-bike component or design contributed to the accident.
Pedestrian Collisions: Accidents involving pedestrians, often at crosswalks or intersections.
Infrastructure Issues: Cases related to poorly maintained roads, bike lanes, or hazardous conditions.
Hit and Run Accidents: Cases where the responsible party fled the scene.
Injury Claims: Representation for catastrophic e-bike accident injuries
At Gair, Gair, Conason, Rubinowitz, Bloom, Hershenhorn, Steigman & Mackauf we understand that e-bike accidents can lead to complex legal questions. To help you better understand e-bike accident litigation in New York, we've compiled a list of frequently asked questions (FAQs) and their answers:
What Should I Do Immediately After an E-bike Accident in New York?
After an e-bike accident, prioritize your safety and well-being. Seek medical attention for injuries. Contact the police to report the accident. Document the scene with photos, and gather witness information. Lastly, consult an e-bike accident lawyer as soon as possible.
What Types of Compensation Can I Seek in an E-bike Accident Case?
In New York, e-bike accident victims may be eligible for compensation that includes medical expenses, lost wages, pain and suffering, property damage, and more. The specific compensation depends on the circumstances of your case.
How Long Do I Have to File a Lawsuit After an E-bike Accident in New York?
In New York, there is generally a three-year statute of limitations to file a personal injury lawsuit after an e-bike accident. However, it's crucial to consult a lawyer promptly, as there may be exceptions to this rule.
What if I Was Partially at Fault for the E-bike Accident? Can I Still Recover Damages?
New York follows a comparative negligence system, meaning you can still recover damages even if you were partially at fault. However, your compensation may be reduced in proportion to your level of fault.
How Long Does an E-bike Accident Lawsuit Typically Take to Resolve?
The duration of an e-bike accident lawsuit can vary widely depending on factors such as the complexity of the case, negotiations with insurers, and court proceedings. Some cases settle within months, while others may take a year or more.
Do I Need to Go to Court for My E-bike Accident Case?
Not all e-bike accident cases go to court. Many are resolved through negotiations with insurers. However, if a fair settlement cannot be reached, your case may proceed to trial. Your lawyer will advise you on the best course of action based on your situation.
How Much Does It Cost to Hire an E-bike Accident Lawyer in New York?
Our e-bike accident lawyers work on a contingency fee basis, which means you only pay legal fees if you win your case. Fees are typically a percentage of the compensation obtained, making legal representation accessible to all.
What Should I Look for When Choosing an E-bike Accident Lawyer in New York?
When choosing a lawyer for your e-bike accident case, it's essential to ensure that your attorney not only possesses a strong understanding of the laws pertaining to e-bikes but also has a proven track record as a successful trial lawyer with a history of favorable verdicts. Consultations are often free, so you can assess whether the lawyer is the right fit for you.
Can I Still Pursue a Claim if the E-bike Accident Involved a Hit-and-run Driver or an Uninsured Motorist?
Yes, you may still pursue a claim. In such cases, uninsured/underinsured motorist coverage or other applicable insurance policies may provide compensation. Consulting a lawyer is essential to explore your options in these situations.
Is the No-fault Law Applicable to E-bike Accidents?
New York City recognizes various categories of e-bikes as legally permissible: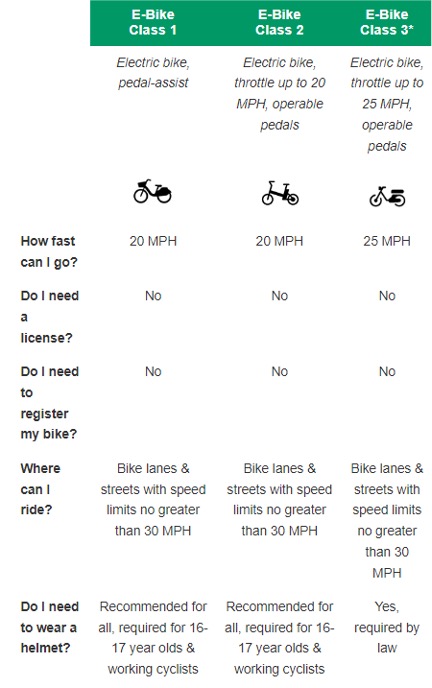 Class 1 E-Bikes: These are pedal-assist e-bikes, which means they provide motorized assistance when the rider pedals. Equipped with a motor that disengages at 20 miles per hour (mph), Class 1 e-bikes are typically treated akin to conventional bicycles, allowing them to operate within bike lanes and on city streets.
Class 2 E-Bikes: Class 2 e-bikes are throttle-controlled, enabling them to be propelled solely through a handlebar-mounted throttle, negating the need for pedaling. With a maximum speed cap of 20 mph, they are often permitted to traverse city streets and bike lanes.
Class 3 E-Bikes: Similar in principle to Class 1 e-bikes, Class 3 e-bikes also provide pedal assistance but have a heightened top speed of 25 mph. However, they frequently come with more stringent regulations, such as mandatory helmet requirements, and may, in some instances, be permitted on city streets.
For riders of Class 1 and Class 2 e-bikes, the umbrella of New York State's no-fault law provides a safety net. This means that, irrespective of fault, the driver's insurance is liable to cover up to $50,000 of medical expenses and lost wages incurred due to injuries resulting from a collision.
Conversely, Class 3 e-bike riders do not fall under the purview of no-fault insurance. In the event that the driver bears responsibility for the injury, Class 3 e-bike riders must seek damages from the driver's personal injury insurance to address their financial needs arising from the accident.
How Can I Get Started With My E-bike Accident Case in New York?