Medication Error Lawyer in New York City
Did You Suffer Injury or Did a Loved One Die as the Result of a Medication Error?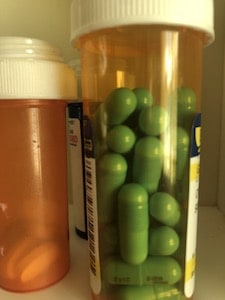 The NYC medication error attorneys at Gair, Gair, Conason, Rubinowitz, Hershenhorn, Steigman and Mackauf have more than 100 year experience helping victims who suffered serious personal injury or wrongful death after a nurse, a pharmacist , a doctor or another healthcare practitioner committed a medication error.
Based in Manhattan but handling cases throughout New York metro area and New York State, our Medication Error team consists of experienced and agressive attorneys who have been recognized by Best Lawyers in America in the area of Medical Malpractice and of 2 board-certified physicians. We also work with a network of top experts that we hire on a case by case basis.
How Can a Lawyer Help in a Medication Error Lawsuit?
Injured patients have the initial burden to explain to the court and jury that there is a standard of care for prescribing and administering medication and that it was violated, resulting in their injury. This is provided through the testimony of expert witnesses, who are qualified to opine on the appropriate standards of care in a designated field. The patient, through his or her Medical Malpractice Attorney and their experts, must also demonstrate how the patient suffered harm as a result of the defendant's malpractice. Such harm may include death, injury, the need to undergo additional medical treatment due to a misdiagnosis, corrective treatment, lost wages, impact on the victim's life, or pain and suffering.
Every Year, There Are over 100,000 Reports of Deaths Resulting from "Medication Errors," or Mistakes That Occur in the Course of Prescribing, Dispensing, and Giving Medications to Patients. Medication Errors May Also Lead to Hospitalization, Disability, or Birth Defects, among Other Injuries.
According to the US Food and Drug Administration ("FDA"), such errors occur at every stage of getting medication from manufacturers to patients and may happen while medication is in the control of a healthcare professional, patient or consumer. Based on one FDA study, medication errors most commonly involve the administration of improper doses – which, including both under- and overdoses, accounts for 4 of 10 deaths caused by medication errors.
Generally speaking, there are three major categories of such errors: prescription errors, measurement errors, and administration/instruction errors.
What Are Prescription Errors?
Prescription errors or prescribing errors (as in the wrong medication having been prescribed) may occur based on similarities in certain drug names, which is known as "Look Alike Sound Alike" ("LASA"). While the rate of occurrence of such errors is unknown, LASA is increasing as more and more medications enter the market. Additional confusion may arise from generic drugs, many of which are named in an attempt to create an association with certain brand-name medications.
Efforts to decrease the incidence of prescriber error include replacing handwritten prescriptions with electronic formats (though this does not solve the problem of confusion due to similar drug names), physician alerts, and changing the appearance of drug names by capitalizing and bolding some letters to create a different appearance from similarly-named drugs. In hospitals, the adoption of bar codes has also been marginally successful in reducing medication errors, although bar codes will not catch errors related to product selection. Furthermore, with the advent of electronic medical records, orders for medications commonly utilize drop down menus. While this has expedited the process of ordering medications, it also increases the risks resulting from similarly-named drugs.
What Are Drug Measurement Errors?
Measurement errors or "wrong dose" medication errors are medication errors related to dosage strength. In particular, drugs are often correlated to a patient's age and/or weight and, if these factors are not properly considered, a patient may not receive a therapeutic dose of a medication (or may receive more than they should).
What Are Drug Administration Errors?
Administration or instruction errors are another common cause of medication errors. More specifically, there are a number of ways to give a drug, such as orally, intramuscularly, intravenously (push or drip), via pump, or rectally. Each format of administration has been correlated with dosage. Therefore, if a drug was tested and found to have a therapeutic effect at a certain dose when administered by IV drip, such as potassium, that same dose may be fatal if administered directly into a blood vessel. A misplaced decimal point may make the difference between a patient receiving an adequate amount of morphine versus a fatal overdose.
Similarly, some commonly used blood thinners, such as heparin, may be given to a patient via injection into a muscle or may be used intravenously. However, utilizing the same dose for both methods will not meet the goal of keeping a patient's blood from developing clots or emboli leading to embolic stroke, but may cause a hemorrhagic stroke.
Why Do Medication Errors Occur so Often?
Outside the hospital or doctor's office, patients rarely understand or remember the nature of and purpose for the medications prescribed for them. This problem is further complicated by the diminishing role of the primary care physician who traditionally performed "Captain of the Ship"-type duties, as in coordinating care amongst a patient's multiple specialists. While computer programs touted by pharmacies purport to spot medication interactions before they happen, these cannot adequately flag contraindications in medication. (As an example, does your pharmacist know to what medications you have had an allergic reaction in the past?)
One possible solution is for patients to know and have a better understanding of their medications – but, unfortunately, this is unreliable even in theory. How many patients who are taking a medication prescribed by their cardiologist know that the medication is designed to increase a segment of the heart muscle's stroke or why their doctor determined they need that effect? How many patients understand the possible side effects and interactions between medications? Printing a list of prescribed medications for patients can be useful, but still relies upon vigilance, as do most of the above solutions.
Recent Case
$8,000,000 settlement on behalf of an 18-year old boy in a New York medical malpractice lawsuit where a physician prescribed the medication Depakote without monitoring the boy's liver functions despite the known effects of Depakote on the liver. As a result of the failure to monitor the liver functions, the plaintiff sustained complete liver failure requiring a liver transplant and a hepatic encephalopathy resulting in brain damage.

$3,000,000 settlement for the family of a man who died after being administered a deadly dose of narcotic by the hospital. The victim was treated at the emergency room of his local hospital for abdominal pain. A pain manager specialist passed a phone order for Dilaudid, an opioid pain medication. The nurse made an error while transcribing the order in the order sheet and raised the amount of medication to a fatal dose. The order was filled by the hospital pharmacist and was not questioned. The victim overdosed shortly after being administered the deadly dose. The hospital never told the family about the error.

The skilled New York Medical Malpractice Attorneys at Gair, Gair, Conason, Rubinowitz, Bloom, Hershenhorn, Steigman and Mackauf have the unparalleled experience to fight for justice for their clients. If you were injured as a result of a medication error such as pharmacy error, prescription error, drug dosage error or drug administration error, please contact our firm to discuss your case.