Erb's Palsy Lawyer in New york City: Expert Advocacy for Birth Injury Cases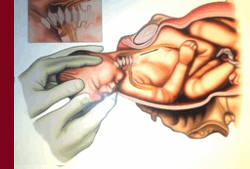 Are you seeking dedicated legal assistance in NewYork for Erb's Palsy cases? Our specialized team is equipped not only with the the most accomplished NYC medical malpractice lawyers but also with medical professionals to offer you unparalleled support. Call the Manhattan Law Firm of Gair, Gair, Conason, Rubinowitz, Bllom,Hershenhorn & Mackauf at (212) 943 1090 for a free consultation or fill a form to explain your case.
Understanding Shoulder Dystocia and Erb's Palsy
"Shoulder dystocia" is the term used to describe the situation during delivery when a baby's head delivers but the shoulder then becomes stuck behind the mother's pubic bone. The failure to recognize the signs of this and to handle the situation properly can be devastating for the baby. There are maneuvers specifically designed to deliver the baby safely when shoulder dystocia occurs. None of these maneuvers involve moving the baby's head at all. If, however, the obstetrician pushes the baby's head downward (towards the floor), the spinal cord nerve roots in the neck can be stretched to the point of rupturing them. The result is an Erb's palsy, commonly referred to as a brachial plexus palsy, in which the function of the baby's arm and even the hand can be severely impaired or even paralyzed.
Why Choose Our Erb's Palsy Lawyers in NYC?

Our exceptional team includes not just seasoned attorneys but also a board-certified physician who can assist in reviewing your case and can help you to understand the full medical scope of the birth injury. Our firm conducts exhaustive investigations, and we retain the most qualified experts to bring a comprehensive level of expertise to surpass that on the other side. For example, we will retain expert obstetricians, pediatric neurologists, and even surgeons to evaluate your record and determine the cause of your child's injury.
If necessary, we also retain expert accountants and financial analysts because many Erb's palsy cases have their own set of associated losses including lost wages, the cost of care and many other monetary costs. In order to accurately assess what these costs will be for the remainder of a victim's life, we use financial professionals to derive fair resolutions for injury victims.
Our NYC Erb's Palsy Lawyers have achieved substantial verdicts and settlements. Some of the more notable results include:
A landmark $3,450,000 settlement for a child who suffered Erb's palsy as a result of the defendant injuring the brachial plexus nerve during the child's delivery

A $3,000,000 settlement in a medical malpractice case for a child who suffered Erb's Palsy following a negligent delivery by his mother's obstetrician
$1,800,000 for a young boy who suffered an Erb's Palsy due to the doctor's negligence during delivery.
A $1,600,000 settlement for a child who suffered Erb's palsy following delivery malpractice.
A $1 million settlement for a child who was injured as a result of a doctor negligence. Explore this Erb's Palsy case in details.
Erb's Palsy litigation FAQ
What is Erb's Palsy?
Erb's Palsy is a birth injury resulting in weakness or paralysis of an arm. It's caused by damage to the brachial plexus, a network of nerves near the neck that control the arm muscles.
How is Erb's Palsy different from other birth injuries?
While there are various birth injuries, Erb's Palsy specifically affects the brachial plexus nerves, leading to issues in arm movement and function. Other birth injuries might affect different body parts or systems.
What causes Erb's Palsy during childbirth?
Erb's Palsy is often caused by excessive pulling during delivery or complications like shoulder dystocia, where the baby's shoulder gets trapped behind the mother's pubic bone.
How common is Erb's Palsy in New York?
While exact figures vary, Erb's Palsy affects approximately 1-2 babies per 1,000 births nationwide. New York, with its diverse population and numerous births, sees a significant number of these cases.
Why hire a New York lawyer for Erb's Palsy cases?
If you believe your child's Erb's Palsy was due to medical negligence, a specialized lawyer can help navigate the complex legal landscape, ensuring that you receive the compensation you deserve.
What compensation can I anticipate from an Erb's Palsy lawsuit in NYC?
Compensation varies based on the severity of the injury, medical expenses, future care costs, and other factors. Our firm has secured settlements ranging from $1 million to $3.45 million.
Are there treatments available for Erb's Palsy?
Yes, treatments include physical therapy, surgery, and occupational therapy. The type and success of treatment often depend on the injury's severity.
How long do Erb's Palsy cases typically take in New York courts?
The duration varies. Simple cases might resolve in a few months, while complex cases can take years, especially if they go to trial.
Is there a time limit to file an Erb's Palsy lawsuit in New York?
Yes, New York has a two-and-half-year statute of limitations for medical malpractice cases, including those involving birth injuries. It's crucial to consult with a lawyer promptly to ensure you don't miss the window.
Your Next Steps
If you suspect that your child's birth injury was due to medical negligence in New York, make an informed decision. Get in touch with NYC Trusted Personal Injury Law Firm Gair, Gair, Rubinowitz, Bloom, Hershenhorn, Steigman and Mackauf.
Contact us now for a free consultation. Complete our online form or dial (212)-943-1090. We are here to guide you every step of the way.

Disclaimer: Please be advised that the results achieved in any given case depend upon the exact facts and circumstances of that case. Gair, Gair, Conason, Rubinowitz, Bloom, Hershenhorn, Steigman & Mackauf cannot guarantee a specific result in any legal matter. Any testimonial or case result listed on this site is based on an actual legal case and represents the results achieved in that particular case, and does not constitute a guarantee, warranty or prediction of the outcome of any other legal matter.