Erb's Palsy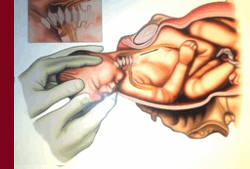 "Shoulder dystocia" is the term used to describe the situation during delivery when a baby's head delivers but the shoulder then becomes stuck behind the mother's pubic bone. The failure to recognize the signs of this and to handle the situation properly can be devastating for the baby. There are maneuvers specifically designed to deliver the baby safely when shoulder dystocia occurs. None of these maneuvers involve moving the baby's head at all. If, however, the obstetrician pushes the baby's head downward (towards the floor), the spinal cord nerve roots in the neck can be stretched to the point of rupturing them. The result is an Erb's palsy, commonly referred to as a brachial plexus palsy, in which the function of the baby's arm and even the hand can be severely impaired or even paralyzed.
Our team of attorneys includes a board-certified physician and a professional registered nurse who can assist in reviewing your case and can help you to understand the full medical scope of the birth injury. Our firm conducts exhaustive investigations, and we retain the most qualified experts to bring a comprehensive level of expertise to surpass that on the other side. For example, we will retain expert obstetricians, pediatric neurologists, and even surgeons to evaluate your record and determine the cause of your child's injury.
If necessary, we also retain expert accountants and financial analysts because many Erb's palsy cases have their own set of associated losses including lost wages, the cost of care and many other monetary costs. In order to accurately assess what these costs will be for the remainder of a victim's life, we use financial professionals to derive fair resolutions for injury victims.
The firm's birth injury attorneys have achieved verdicts and settlements that are among the largest in the country. Some of the more notable results include a $3,000,000 settlement in a medical malpractice case for a child who suffered Erb's Palsy following a negligent delivery by his mother's obstetrician; a $1,800,000 for a young boy who suffered an Erb's Palsy due to the doctor's negligence during delivery, a $1,600,000 settlement for a child who suffered Erb's palsy following negligent delivery by his mother's obstetrician and a $1 million settlement for a child who was injured as a result of a doctor negligence (read more about this Erb's Palsy settlement).

If you believe your child's birth injury was the result of medical malpractice, please contact our firm to discuss your case.
Disclaimer: Please be advised that the results achieved in any given case depend upon the exact facts and circumstances of that case. Gair, Gair, Conason, Rubinowitz, Bloom, Hershenhorn, Steigman & Mackauf cannot guarantee a specific result in any legal matter. Any testimonial or case result listed on this site is based on an actual legal case and represents the results achieved in that particular case, and does not constitute a guarantee, warranty or prediction of the outcome of any other legal matter.