New York Breast Cancer Misdiagnosis Lawyer
The NYC breast cancer misdiagnosis attorneys at Gair, Gair, Rubinowitz, Bloom, Hershenhorn, Steigman and Mackauf are not only experts at handling breast cancer misdiagnosis lawsuits but they are also teaching other attorneys on how to handle these cases properly.

Our attorneys have served as the Chairperson and lectured in several New York State Bar Association-sponsored programs including one entitled "Medical and Legal Issues in Breast Cancer and Gynecological Cancers and Surgery". They have also lectured on breast cancer litigation at several seminars and institutions and published numerous articles including "Failure to Diagnose Breast Cancer: The Perspective of a Patient's Attorney."
Did your doctor failed to diagnose breast cancer?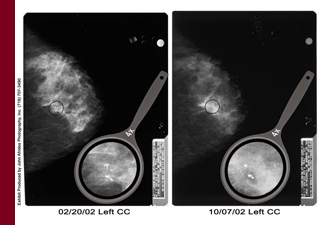 Our medical malpractice attorneys are based in Manhattan and handle cases in New York Metro area, NY Sate and NJ. If your or a loved one's breast cancer was misdiagnosed, contact us for a free consultation at 212-943-1090.

Some of the awards we recently obtained for our clients include:
$2,300,000 settlement on behalf of a woman whose doctors failed to timely diagnose her breast cancer.
$2,000,000 settlement in medical malpractice case involving the failure to diagnose breast cancer.
$2,000,000 settlement in a medical malpractice case for failing to diagnose breast cancer.
$1,950,000 in a Westchester county cancer misdiagnosis case in which doctors failed to timely diagnose breast cancer.
$1,875,000 Nassau county malpractice case in which doctors failed to timely diagnose breast cancer.
$1,575,000 verdict on behalf of a woman whose doctors failed to make a timely diagnosis of her breast cancer.
$1,450,000 settlement in an Ulster County medical malpractice case in which doctors failed to timely diagnose a woman's breast cancer.
$1,450,000 settlement in a Dutchess County medical malpractice case in which doctors failed to timely diagnose breast cancer.
How do top attorneys investigate a breast cancer misdiagnosis case?
Our Breast Cancer Misdiagnosis Attorneys work with a team that includes 2 board-certified physicians who can assist in reviewing your case and help you to understand the full medical scope of your claim. Our firm conducts exhaustive investigations, and we retain the most qualified experts to bring a comprehensive level of expertise to surpass that on the other side. For example, when a doctor fails to diagnose breast cancer, we seek out and retain a practicing breast cancer specialist to determine the full circumstances of the misdiagnosis and in the event of a misread mammogram, we will find an expert radiologist to examine the films.
If necessary, we also retain expert accountants and financial analysts because many medical malpractice cases have their own set of associated losses including lost wages, the cost of care and many other monetary costs. In order to accurately assess what these costs will be for the remainder of a victim's life, we use financial professionals to derive fair resolutions for injury victims.
The key to successfully fighting breast cancer is early detection. Breast cancer symptoms can share the characteristics of other conditions, so proper testing by doctors is essential. Tests such as mammograms and biopsies are commonly used by the medical profession to detect breast cancer. Many times doctors fail to even order these crucial tests. There are also situations where the proper tests are ordered, but the radiologist misreads the film or the pathologist misreads the slide, leading to a crucial delay in making the diagnosis. Delay in diagnosing cancer can worsen the treatment or prognosis or can even be fatal.
Can I Sue A Doctor For Breast Cancer Misdiagnosis?
Any physician negligence that caused a delay in the diagnosis of your breast cancer may be a reason to consider seeing an attorney about a potential medical malpractice lawsuit. Some examples include: the failure to follow the proper guidelines for the screening of breast cancer, the failure of a physician to address properly the presence of a breast lump or other symptoms of breast cancer, and the failure to recognize the presence of breast cancer on a mammogram.
Does Your Law Firm Handle Cases of Failure to Diagnose Breast Cancer?
Yes. We are not aware of any law firm that handles more of these cases than we do. In fact, we have been the ones who for decades have been teaching other attorneys around the country how to handle these cases properly.
What Has to Be Proved to Win a Breast Cancer Misdiagnosis Lawsuit?
Simply put, we have to prove two things. First, that the failure to diagnose your breast cancer sooner was due to the malpractice (medical negligence) of one or more doctors. Second, we have to prove that if your breast cancer had been diagnosed when it should have been, your outcome would have been significantly different.
How Can I Prove That My Condition Got Worse Because of a Breast Cancer Misdiagnosis?
You don't. That is our job. We are experts at analyzing what clients tell us in conjunction with the medical records. It is then our job to see whether independent medical experts believe and will testify that in their expert opinion that there was malpractice and that this significantly worsened your prognosis.
Does the Length of the Delay in Breast Cancer Misdiagnosis Lawsuits Matter?
The delay has to be long enough for an expert to conclude that in your particular case such a delay mattered significantly. As a general rule, the longer the delay, the easier it is for an expert to reach such a conclusion.
Who Are the Defendants in Cases Related to Failure to Diagnose Breast Cancer?
In many cases, the defendant (or one of the defendants) is a clinician such as the one who performed (or should have performed) one or more of your breast examinations. This might be an obstetrician, internist, family physician or even a breast surgeon. In some cases, a radiologist is a defendant if they failed to interpret properly your mammogram or sonogram. In some cases, a pathologist is a defendant if they failed to diagnose the cancer in your surgical specimen.
I Have Seen My Doctor's Records. They Don't Mention the Lump in My Breast That I Complained about. Might I Still Have a Case?
Yes. Sometimes juries find that a doctor's records were inadequate or even falsified. In a lawsuit, you would be entitled to tell the jury about your memory of that visit.
What If I Die or Become Incapacitated before the Breast Cancer Misdiagnosis Lawsuit Is Initiated or before the Lawsuit Is Resolved?
The law provides that your lawsuit would continue.
How Often Should I Perform a Breast Self-Exam?
Many physicians recommend that women perform monthly breast self-exams. The best time for a woman to perform a BSE is about 7 to 10 days after the start of her menstrual period. If she is no longer menstruating, the examination should be performed on the same day of each month. It is important to note any changes from her last self-exam and to notify a physician of these changes.
How Often Should I See My Doctor for a Breast Exam?
In addition to routine breast examinations as part of a routine physical examination, a physician should examine breasts if the patient complains of any breast lump, change in size or shape of the breast, skin changes, or symptoms such as pain, bleeding or discharge from the nipple.
What Are the Risk Factors for Breast Cancer?
Being born a female is the main risk factor for breast cancer. Most breast cancers are diagnosed in women age 55 or older. If one or more family members were diagnosed with breast cancer, especially at a young age, you may be at a higher risk of developing breast cancer. Inheriting a mutation of the BRCA gene may also increase your risk of developing breast cancer. Other risk factors include starting menstruation before the age of 12, menopause occurring after age 55, never having given birth, or having your first child after the age of 30. The use of oral contraceptives as well as postmenopausal hormonal therapy may increase risk. Additional risk factors include prior radiation therapy to the chest, obesity, the excessive use of alcohol, and physical inactivity.
What Are the Current Guidelines regarding Mammogram Screening for Breast Cancer?
Recently, the US Preventive Services Task Force, an independent, non federal panel of public health and prevention experts appointed by the CDC director recommended that all women should get screened every other year starting at age 40.
Woman between the ages of 45 and 54 should undergo a yearly mammogram. For women 55 and older, a mammogram should be performed either yearly or every other year. Note: these recommendations apply only to screening mammograms, i.e. mammograms done when a woman has no signs or symptoms of breast cancer.
Can I Develop Breast Cancer Between Mammograms?
The answer is yes. Breast cancers that arise after a normal mammogram but before the next scheduled mammogram are known as "interval breast cancers." Cancers of certain types and sizes can also be present but not visible on a mammogram, especially in women who have dense breast tissue. There are, however, malpractice cases in a which a radiologist fails to see the evidence of breast cancer that was present and visible on one or more mammograms.
The Breast Cancer Misdiagnosis Lawyers at Gair, Gair, Conason, Rubinowitz, Bloom, Hershenhorn, Steigman & Mackauf have achieved numerous verdicts and settlements that are among the largest in the country. If your breast cancer went undiagnosed by a doctor or was misdiagnosed, please contact our firm to discuss your case.
Disclaimer: Please be advised that the results achieved in any given case depend upon the exact facts and circumstances of that case. Gair, Gair, Conason, Rubinowitz, Bloom, Hershenhorn, Steigman & Mackauf cannot guarantee a specific result in any legal matter. Any testimonial or case result listed on this site is based on an actual legal case and represents the results achieved in that particular case, and does not constitute a guarantee, warranty or prediction of the outcome of any other legal matter.