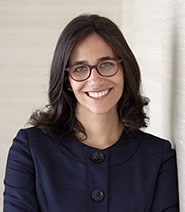 Rachel Jacobs
Associate
Rachel Jacobs is involved in prosecuting all types of personal injury cases, particularly motor vehicle and medical malpractice cases. Her work includes all aspects of case investigation, drafting and overseeing pleadings, researching and writing motions, preparing and defending plaintiffs' examinations before trial, court appearances, and trial preparation. Ms. Jacobs is admitted to the Bar of both New York and New Jersey and practices extensively in the Courts of those states.
Ms. Jacobs attended the Benjamin N. Cardozo School of Law, where she was a member of the Cardozo Journal of Law and Gender and graduated cum laude in 2013. Her outstanding talent in the law was recognized at Cardozo when she received the Jacobs Burns Ethics Center in the Practice of Law Award. In addition, Ms. Jacobs' passion for helping those in need resulted in her serving as a David Berg Foundation Fellow and a member of the Equal Justice Works Summer Corp. Moreover, while at Cardozo, Ms. Jacobs practically applied this passion for helping others through her work with Legal Services NYC, Lambda Legal, and the Innocence Project. Her exceptional research and writing skills resulted in the publication of her Note entitled, Waiving Goodbye to Due Process: The Juvenile Waiver System, in the Spring 2013 issue of the Cardozo Journal of Law and Gender. Ms. Jacobs received her undergraduate degree from Binghamton University, where she graduated summa cum laude and Phi Beta Kappa. She also won the Amy M. Gilbert Prize for Excellence in History. While at Binghamton Ms. Jacobs' outstanding writing skills were evident as she published a piece titled, Women as Perpetrators of Genocide.
Following graduation from law school, she obtained a prestigious clerkship position with Judge Jessica Mayer at the Superior Court of New Jersey, Law Division, Civil Part, in Middlesex County. While clerking for Judge Mayer, Ms. Jacobs obtained first-hand experience with complex litigation matters involving mass torts. In particular, Ms. Jacobs' clerkship concentrated on pharmaceutical cases involving the drugs Zometa®/Aredia®, Alloderm®, and Risperdal/Seroquel/Zyprexa®, among others. This experience allowed Ms. Jacobs to obtain keen insight from a judicial perspective as to how to properly prepare and prosecute complex civil litigation matters involving serious claims of personal injury.
Upon completion of her clerkship in 2014, Ms. Jacobs joined our office to focus her exceptional skills and background on the practical assistance of persons injured by the negligence and wrongdoing of others. As a lawyer of high integrity and passion for the pursuit of victims' rights, her transition into plaintiff's personal injury litigation was both natural and rewarding. Her intimate knowledge of the Court's administration and oversight of complex litigation matters is a considerable resource for our office. Ms. Jacobs works closely with Peter Saghir as well as our Managing Partner, Ben Rubinowitz, on all aspects of the litigation of catastrophic personal injury and medical malpractice cases from the initial investigation up to trial.
Education
J.D., Benjamin N. Cardozo School of Law, 2013
cum laude
B.A., Binghamton University, 2008
summa cum laude
Jurisdictions Admitted to Practice New York
New Jersey
Federal Court
Southern District of New York
Eastern District of New York

Lecture / Publication
Demonstration of an Opening Statement, Intensive Trial Advocacy Program (ITAP), Cardozo School of Law, November 2018