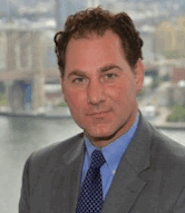 Peter J. Saghir
Partner
Hired out of law school in 2004, Peter's trial and case preparation skills have flourished under the tutelage of our firm's senior partners. Since joining the firm, Peter has been a fierce advocate for his clients and has achieved numerous multi-million dollar settlements and verdicts. Many cases he has prepared, tried and co-tried have resulted in highly favora-ble verdicts, including
$41.5 million Verdict for the family of a New York City sanitation worker who was fatally run over by a street sweeper
and $27.5 million against the New York City Transit Authority in a case involving a pedestrian whose leg was amputated above the knee after she was struck and run over by a bus. He also prepared and co-tried a complex case against the City of New York and a construction company claiming the defendants negligently failed to warn traffic on the West Side Highway of a construction site in the roadway. This resulted in catastrophic injuries to a husband and father, whom the defendants claimed was solely responsible for his accident. Following a lengthy and hotly contested trial, a Manhattan jury found the plaintiff completely free of fault and awarded him $7,125,000 in total compensation. Peter prides himself on meticulously preparing every case for trial to ensure a successful verdict or, if appropriate, settlement. One such case, involving an 80-year-old woman who suffered crush injuries to her feet, was recently settled with the New York City Transit Authority for $6,500,000. Another case involving a boating accident in which his client suffered a cervical herniation and fusion resulted in a settlement for $1,900,000. Recently, Peter obtained a unanimous verdict finding the driver of a car completely at fault when he struck a pedestrian as she crossed 42nd Street. The driver claimed she was running across the street outside of the crosswalk while the plaintiff maintained she was crossing within the crosswalk. Following the verdict, Peter obtained the full insurance policy and a substantial personal contribution from the driver.
Peter describes his view of the job as follows: "I am humbled to be able to represent people who often come to me at the most difficult time in their lives. It is both an honor and an awesome responsibility to meet them at their point of need and secure for them full and fair compensation for their injuries."

Mr. Saghir has lectured with the National Institute of Trial Advocacy and at Cardozo Law School and Hofstra University in their Advanced Trial Advocacy classes. In addition, he assists Ben B. Rubinowitz in writing the "Trial Advocacy" column in the New York Law Journal. For the past several years, Peter has been selected to the New York Super Lawyers list.


Education
J.D., Brooklyn Law School, 2004
Cum laude
Dean's Merit Scholarship
Moot Court Honor Society
CALI Excellence for Future Awards
Trial Advocacy and Securities Regulations
Edward V. Sparer Public Interest Fellowship
Journal of Law and Policy
B.F.A., New York University, 1994
Jurisdictions Admitted to Practice New York, 2005
Massachusetts, 2005
U.S. District Court, Southern and Eastern Districts of New York, 2007

Professional & Bar Association Memberships
New York State Bar Association
Association of Trial Lawyers of America
New York State Trial Lawyers Association
PUBLICATIONS
"Home is Where the No Fault Eviction is: The Impact of the Drug War on Families in Public Housing," 12 J.L. & Pol'y 369 (2003).
CLIENT REVIEW
Highly recommended by reputation: THE DREAM TEAM, professionals taking you out of your NIGHTMARE. You helped us every "knot" of the way!
Your proficiency, knowledge, along with the research of the massapequa waters, boating safety proved the recklessness of the driver; who didn't protect us from danger.
Peter, during the deposition your questions/extrapolating the facts of defendant of prior accidents , lawsuits and what occurred the night of the boating accident were remarkable.
You took such a personal approach, understanding our situation with care and warmth for due diligence.
Our future was in your hands since our friend was reckless in ours.
Ben, we knew you were informed and interested in the case with a personal "touch"…that "touched" our hearts by taking on our case
You "wanted" this for us
When we were at the final hours of settling our case at the negotiating table
Each amount offered… you rejected
"we could do better"
You provided the negotiator with cases you researched that awarded larger sums.
To "sum" it up…
We put our trust into you and peter to secure our future without worries of the what ifs…
And for that…we are forever grateful
Fondly,
Susan and Bobby gottlieb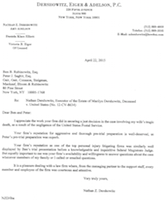 Mr Saghir and Mr Rubinowitz recently obtained a $4.6 million verdict for the husband of Marylin Dershowitz, a retired Manhattan Supreme Court special referee who was fatally struck by a postal truck. Her husband Nathan Dershowitz of Dershowitz, Eiger & Adelsonter recently sent the following thank you letter to Peter and Ben (click on the letter for full size)