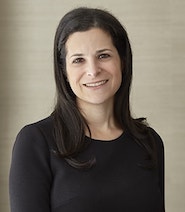 Michelle L. Levine
Associate
Michelle L. Levine dedicates most of her time to appellate work in catastrophic personal injury and medical malpractice cases. After over a decade focusing on corporate litigation-related and advisory matters, Ms. Levine decided to follow her passion for assisting others during their most personally challenging times.
Ms. Levine began her career at a major corporate law firm, where she gained broad experience in commercial litigation, international arbitration, and insurance matters in federal and state courts across the country. Her practice included appellate work in various industries and jurisdictions, including several submissions to the U.S. Supreme Court. Ms. Levine also spent significant time defending pro bono clients in immigration and housing court, including extensive briefing and arguments to support those in true need of justice. She then worked for several years in the legal department of a leading global bank, including preparing reports on significant litigation and investigations for senior management, and advising on the applicability of international securities regulations in the Global Wealth Management division. During Ms. Levine's time in the corporate sector, she developed an ability to analyze complex legal issues and propose creative solutions - skills that she continues to incorporate into her writing and advocacy for clients of the firm.
Ms. Levine graduated from Northwestern University in 2004 and received her law degree from Duke Law School in 2007, where she was the Managing Editor of the Duke Law Journal. While in law school, she also spent a summer interning for Judge Richard J. Holwell in the U.S. District Court, Southern District of New York. She is admitted to practice in New York (2008) and the U.S. District Court for the Southern District of New York (2009).
Education
J.D., Duke Law School, 2007
B.A., Political Science, Business Institutions, Northwestern University, 2004
Jurisdictions Admitted to Practice New York, 2008
U.S. District Court for the Southern District of New York, 2009