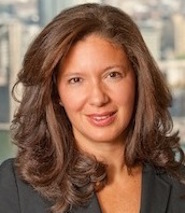 Diana M. A. Carnemolla
Partner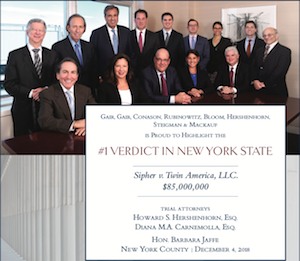 She always had our best interest at heart and fought to the very end for what was right which resulted in a settlement we never imagined could be achieved. Diana was always supportive and compassionate to my young daughter and myself during our darkest days. Diana is very understanding and most important always was there for us when we needed her. Because of Diana and how she handled our case from beginning to its settlement, our lives changed for the better. We will always be thankful for her. - Jason F., former client
Diana Carnemolla is lauded as one of New York's Top Verdicts & Settlements lawyers, a prestigious honor and distinction in recognition of her unparalleled representation and resolution of her clients' cases. Recognized for her outstanding competency as a distinguished litigator, Diana is one of only three women to have been elected equity partner in the firm's distinguished 100 years of service. In addition, Diana has been recognized as a Super Lawyer in the New York Metro area since 2016. In the decades Diana has been at Gair, Gair, Conason, Rubinowitz, Bloom, Hershenhorn, Steigman & Mackauf, she has handled numerous personal injury cases, including motor vehicle accidents, labor law claims, and medical negligence, that resulted in recoveries of multi-millions of dollars.

Diana was also recently listed by Forbes in their "Best Car Accident Lawyers in NYC 2023" listing with 9 other prestigious New York City car accident attorneys. Lawyers listed in this reliable guide were carefully researched through an independent methodology developed by Forbes Advisor.

Diana has been a successful and tireless advocate for her clients who have suffered tremendous injuries and loss. In December 1989, before graduating from college and earning her Bachelor of Science Degree in less than three and a half years, Diana was hired at GG&C to work with trial attorneys to prepare cases and trials. For the next three years Diana honed her skills working on trials, preparing experts, drafting motions and supervising all phases of discovery when she decided to pursue a law degree in the evening while continuing to work full time at the GG&C law firm. As a first generation American whose family immigrated from South America, Diana aspired to be an attorney to help individuals in need of legal representation who might not otherwise be able to understand their legal rights such as victims who suffered personal injury or had a loved one who did. Diana is the only attorney in the history of the firm to attend a law school night program while continuing her full time employment at GG&C working with attorneys who would later become her partners.
Upon graduation from law school and being admitted to practice law in New York and New Jersey, Diana was hired as an associate attorney at GG&C. Diana is well known for her thorough preparation of her cases. She is extremely meticulous with preparing her clients for their pre-trial deposition and recognized by medical experts and defense counsel for her thoroughness when deposing defendants, especially in medical malpractice cases. When working with her clients, Diana recognizes that each client has different needs and devotes as much time needed so they are comfortable, well informed and ready when questioned by defense attorneys. In 2010 Diana became a GG&C partner and in 2016 she was elected equity partner, a prestigious position held by only two other females in the history of the law firm.
Diana has been a second chair trial attorney in cases that have resulted in outstanding results including an $85 million in New York county Supreme Court jury verdict for a pedestrian who was struck by a bus. This was the largest verdict of its kind in New York City. Her perseverance and work ethic, along with her knowledge of all aspects of pre-trial preparation of complex medical malpractice cases and major injury litigation have resulted in settlements which include $8.5 million for failure to properly monitor and deliver a mother's infant before his birth; $8.25 million for wrongful death and conscious pain and suffering caused by failure to diagnose and treat patient's acute myocardial infarction; $8 million for wrongful death arising from a drunk driving accident resulting in severe suffering to plaintiff's child and the death of his pregnant wife; $7 million for wrongful death caused by failure to properly perform the patient's emergency Cesarean section; $4.9 million for severe injuries to the plaintiff pedestrian hit by a bus as she crossed within the crosswalk.
A physician recommended Diana as the best, compassionate counsel possible. "I felt she viscerally understood my raw pain, rage and sense of devastation. We felt completely at ease, even during the rough times. Diana maintained her composure and more importantly kept me from losing my mind and hope." -Mary F., former client
Diana is also recognized by her clients for being compassionate and supportive. Her sensitivity to, and empathy for, her clients and their families has made the often times stressful situation an easier one to bear. Diana's ability to communicate with her clients and address their concerns provides a constant source of comfort and security upon which they have come to rely.
"I take pride in being a zealous advocate for my clients, I see it as part of my representative responsibility to treat my clients with respect and dignity, and to dedicate myself to their representation. It is an honor and responsibility that is profound to me. Through my experience, knowledge and resources I devote myself to achieve the greatest successful resolution for my clients at trial or pre-trial settlement so that they can move forward and focus on enjoying a better life." - Diana M.A. Carnemolla, Esq.
Notable Cases
Settled $3.275 million. A 70 year old woman complained of lower back pain to her PCP and a back x-ray showed a vertebral fracture. Because of ongoing back pain, her doctor recommended her to have a Magnetic Resonance Imaging (MRI). The MRI was done, however it was erroneously read as normal when it showed the possibility of infection existed. Two weeks after the MRI was done, she was taken to a hospital because she looked very ill: productive cough, shortness of breath, and she was found to have fluid in her lungs. She was diagnosed with endocarditis. A repeat MRI of her back showed osteomyelitis. The infection was related to endocarditis. Had the diagnosis of this infectious process been made 2 weeks earlier, antibiotic therapy would have been started and she would have avoided her eventual cerebrovascular accident, stroke.
Settled $3.750 million. Wrongful death with claims of medical negligence of a 47 year old working, married father. After the inter-hospital transfer and admission to the NYC hospital, the defendant hospital staff failed to timely have the patient evaluated by any neurologist after critical findings of a head CT scan showed the presence of acute hemorrhage in the patient's brain. Also, it was alleged that the defendant medical caregivers failed to stop administering aspirin and Lovenox to the patient when they knew or should have known about the worrisome head CT scan findings.
Settled $4.275 million. This personal injury action arose from an incident in which plaintiff warehouse worker was seriously injured while working at a storage warehouse when an order picker – a machine designed for lifting workers to reach elevated shelves – became stuck at a high elevation and suddenly fell upon the warehouse worker, completely crushing his leg. A co-worker testified that the order picker became unstuck and fell onto the plaintiff because the plaintiff had used a pry bar in an effort to help bring the stuck platform down to ground level. The plaintiff's crushed leg was later amputated below the knee.
Settled $3 million. All available insurance coverage. Surfing accident involving a child attending Surfing School. The child plaintiff was attending surfing school at a municipal beach when he inappropriately dismounted from his surf board to avoid another student. The surfing student suffered injuries that resulted in a paralysis of his legs. The defendants alleged the plaintiffs assumed the risks and hazards because surfing is an inherently dangerous activity, asserting a defense of "Assumption of Risk". Additionally, the municipal defendant alleged that it was entitled to governmental immunity in this matter and, in the alternative, owed no special duty to the child plaintiff.
Settled $2.9 million. This wrongful death/personal injury action involves a single working woman with no dependents. The cause of death was blunt force trauma of the head, neck and torso. She was declared dead at the scene of the accident.
Settled $1.3 million. This case involved a 48 year old man that suffered cardiac arrest with subsequent death shortly after an uneventful upper endoscopy and colonoscopy. The patient had a complicated, unrelated past medical history. The gastroenterologist performed the procedure and the patient appeared to have been tolerated well. However, the patient was returned to the procedure room to initiate corrective measures. CPR had been initiated when the patient apparently arrested; EMS was called. At the time the claim arose, the patient was working but earned a small income, he was separated from his wife and 3 of his 4 his children were adults. There was no evidence of conscious pain and suffering.
Settled $1.1 million This wrongful death / personal injury action involves an unemployed, homeless woman who lost custody of her infant child after a court removed the child from her custody because she had abandoned the child in a homeless shelter. The cause of death was blunt force trauma of the head, neck and torso after the woman was struck by a bus. She was declared dead at the scene of the accident. The findings of conscious pain and suffering were limited.
Disclaimer: Please be advised that the results achieved in any given case depend upon the exact facts and circumstances of that case. Gair, Gair, Conason, Rubinowitz, Bloom, Hershenhorn, Steigman & Mackauf cannot guarantee a specific result in any legal matter. Any testimonial or case result listed on this site is based on an actual legal case and represents the results achieved in that particular case, and does not constitute a guarantee, warranty or prediction of the outcome of any other legal matter.
Education
Juris Doctor, New York Law School, 1997
Bachelor of Science, St. John's University, 1990
Jurisdictions Admitted to Practice New York, 1998
New Jersey, 1999
U.S. District Court Western District of New York, 2009

Professional & Bar Association Memberships
New York State Bar Association
New Jersey Bar Association
New York County Lawyers Association
Monmouth County Bar Association
New York State Bar Association
Association of Trial Lawyers of America