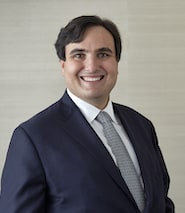 Alex R. Bloom
Associate
Alex R. Bloom's practice is dedicated to seeking justice for victims of catastrophic personal injuries, medical malpractice, and significant construction accidents. To that end, he is actively involved in advancing the interest of his clients at all stages of litigation from drafting the initial pleadings, to obtaining the necessary information during the discovery process through preparation for trial. Mr. Bloom also takes a dedicated role in researching and writing motions and, if necessary, appeals on our client's behalf to ensure they obtain the relief to which they are entitled.
A New York City native, prior to joining the firm, Mr. Bloom was an Assistant District Attorney at the Kings County District Attorney's Office, where he was a member of the Frauds Bureau of the Investigations division. After approximately a year as the DA's office, Mr. Bloom decided to move from a criminal to a civil practice to help those in need.
Mr. Bloom is passionate about applying his extensive litigation, research and writing skills to make his clients whole and bring closure to victims of negligence. He firmly believes that by obtaining justice for these victims, not only can he help his injured clients, but also help society as a whole by holding negligent parties responsible so they do not harm others in the future.
Education
J.D., Benjamin N. Cardozo School of Law, 2018
B.A., Lehigh University, 2015
Magna Cum Laude
Jurisdictions Admitted to Practice New York, 2019
New York Southern District Court
Eastern District of New York

Professional & Bar Association Memberships
New York City Bar Association
New York State Bar Association
Lehigh Lawyers Association
Director