Are You Looking for a Lithium Battery Accident Lawyer in New York City?
Were you injured or did a loved one die in an explosion caused by the explosion of a lithium-ion battery?
The New York product liability attorneys at Gair, Gair, Conason Rubinowitz, Bloom, Hesrhenhorn, Steigman and Mackauf have vast experience helping people injured or killed by lithium battery explosions. Not only do they master the highly complex process that is required to win a product liability claim but they are also experts at handling fire and explosion cases.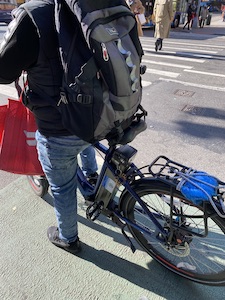 Lithium-ion batteries are part of the daily life of anyone these days. From phones to electric cars and airplanes to e-bike, e-scooter, e-board, vapes, camera, laptop and more, almost every household in New York has devices that are powered by lithium batteries. While lithium batteries are usually safe to use, they can sometimes explode and catch fire resulting in injuries or deaths as well as damages that can sometimes be very serious.
Do I need an attorney after a lithium battery explosion?
If you were seriously injured or a loved one died as the result of a lithium battery explosion you should consult a personal injury attorney who is experienced in handling complex product liability cases and fire and explosion cases. Product liability cases are extremely complex and expensive to handle, therefore you want to make sure your attorney not only is an expert in this field but is ready to invest in the best experts to properly investigate and prosecute your case.
Why do Lithium-Ion batteries explode?
Lithium battery explosion are usually the result of a short circuit inside the battery that is often caused by a manufacturing defect or a bad design.
However, the explosion can also be caused by external factors such as extreme heat or shock (for example if you drop your cell phone too often or it fell too hard) or if it is pierced.
Poorly insulated charger or bad quality charger can also damage a battery and as a result cause the battery to explode. Therefore, it is important to always use the original charger provided by the manufacturer. While lithium batteries are protected from over-charging. If these built-in protections are defective, the battery can become over heated.
While small lithium batteries such as cell-phone batteries only have one cell, very large batteries such as those powering electric cars have hundreds of cells. If only one of these cells is defective and overheats it can damage all the other cells and result in thermal runaway.
Are lithium battery accidents commons in New York?
According to recent statistics from the FDNY, e-bike and e-scooter batteries have caused 104 fires resulting in 4 deaths and 79 injuries in 2021 in New York City.
In 2022, a 43-year-old man who was hospitalized on March 13 died on March 24 from his injuries after 11 days of pain and suffering. The man was pulled out of a massive fire that had been caused by a malfunction lithium battery. He suffered multiple severe burns on his back and his stomach.
Another massive four-alarm blaze was caused by an e-bike charging in a restaurant located in the ground floor of a residential building in the Bronx in January 2022. One person was injured and multiple homes were destroyed by the fire.
How can I prevent lithium battery explosion and fire?
Using batteries that are provided by the manufacturers is usually the best way to prevent a lithium battery explosion but even these batteries can sometimes be defective therefore it is recommended to charge your equipment when you are awake and not too far away. Additionnally make sure that your smoke alarm is properly working.
Who are the most at risk in New York City?
Delivery workers in New York City who are using an electric bike for their work and charge it while they are sleeping are among the most at risk of a lithium battery explosion. Because they cannot afford expensive e-bikes with certified batteries, they often buy second-hand equipment from other workers or cheap equipment that comes with a lower quality battery. Delivery workers have been asking the city to provide them with safe charging stations to avoid dangerous accidents.
The Lithium-Ion battery explosion attorneys at Gair, Gair, Conason, Rubinowitz, Bloom, Hershenhorn, Steigman & Mackauf have an in-depth experience representing clients injured or killed in accidents caused by defective batteries in the New York metro area. Contact us for a free consultation at 212-943-1090