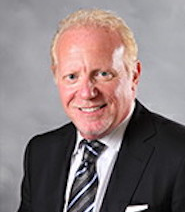 Robert D. Sunshine, MD, FACS
Medical Legal Consultant
Dr. Robert Sunshine retired from his surgical practice in 2017 and joined the law firm of Gair Gair Conason as a medical legal consultant, reviewing, investigating and analyzing cases of alleged medical malpractice. These cases span the entire spectrum of medical specialties including internal medicine, surgery, pediatrics, obstetrics and gynecology, as well as other areas such as emergency medicine, and radiation oncology. In addition, Dr. Sunshine locates experts in various medical subspecialties throughout the United States and works with them, to further evaluate each case in question. He is often called upon to assist paralegals, associates and partners with the complicated medical issues that often arise during the course of discovery and at the time of trial. His unique ability to teach, explain and simplify very complex medical issues, is a tremendous asset for the firm and our clients. He has assisted in the preparation of malpractice presentations to physicians of various medical specialties at conferences, classes and seminars throughout the country.
A graduate of New York University and the University Of Monterrey Institute Of Health Science – School of Medicine, Dr. Sunshine successfully completed a two year general surgery residency at the Long Island Jewish Medical Center, followed by four years of urological residency training at the Mount Sinai Medical Center in New York. After completing his Chief Residency, he joined Long Island Urological Associates, a urology practice in Bethpage, New York. He was one of the original founding partners of Integrated Medical Professionals, PLLC, which today, is the largest urology and radiation oncology practice in the United States.
Dr. Sunshine is certified by the American Board of Urology and has been recertified every ten years. A Fellow of the American College of Surgeons, the International College of Surgeons and the Nassau Academy of Medicine, he was appointed a Clinical Instructor in Urology at the Weill – Cornell Medical College.
Designated an "expert" in urology by the American Urological Association, he served as the Director of the Department of Surgery at St. Joseph Hospital on Long Island, as well as the Chief of the Section of Urology at that same institution.
A member of numerous professional medical organizations, he has been included in the Castle Connolly Guide to "The Best Doctors in the New York Metropolitan Area", U.S. News and World Reports "Top Urologists", Newsday's "Best Doctors on Long Island" and New York Magazine's "The Best Doctors in New York".
Dr. Sunshine received a gubernatorial appointment to serve as a member of the Board of the New York State Department of Health, Office for Professional Medical Conduct, a position he held for 10 years. He was also appointed Police Surgeon for the New York State Police Investigators Association and currently serves as a surgeon with the Nassau County Department of Health, Medical Reserve Corps.
In his free time he enjoys motor sports and holds U.S. and Canadian competition licenses in open wheel, Formula 2000, auto racing. Dr. Sunshine has served as a Race Physician for the Skip Barber Racing School, the Bertil Roos Racing School, the Bridgestone Racing Academy and the Sports Car Club of America.
Education
M.D., University of Monterrey Institute of Health Science - School of Medicine New York University
Board Certification American Board of Urology

Professional Memberships
American College of Surgeons
American Urological Association
Awards and Publications
Physician Recognition Award of the American Medical Association
New York Magazine's "The Best Doctors in New York"