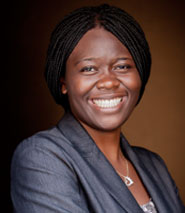 Nkasi Okafor
Associate
Nkasi Okafor possesses over a decade of litigation, advocacy, and policy experience garnered from tenures at private, government, and academic institutions. She added her unique and invaluable skill set to Gair, Gair, Conason, Rubinowitz, Bloom, Hershenhorn, Steigman & Mackauf when she joined the firm as a Counselor at Law in 2011. As the only other attorney on senior partner Jeffrey Bloom's litigation team, Ms. Okafor is an integral member of GGCRBHS&M.
Ms. Okafor is involved in all stages of the litigation process, and this helps guarantee optimal results for her clients. From pre-trial discovery, to mediation, to trial preparation, Ms. Okafor is intimately involved in ensuring that all cases under her purview are made "trial-ready." Included in preparing a case for trial is defending and taking depositions and engaging in motion practice involving a variety of complex legal issues. Ms. Okafor's efforts are not in vain, as they have resulted in several favorable results for her clients. In collaboration with Mr. Bloom and his litigation team, Ms. Okafor has helped secure substantial results for her clients including, but not limited to, the following:
Failure to diagnose and treat a volvulus in an infant $8,500,000
Fracture of ethmoid bone during surgery resulting in death $4,000,000
Improper administration of Pitocin during labor and delivery resulting in the death of the mother $4,000,000
Improper administration of Pitocin during labor and delivery resulting in the development of cerebral palsy in an infant $3,800,000
Failure to diagnose colorectal cancer $3,500,000
Failure to diagnose breast cancer $1,900,000
Failure to manage a patient's airway during surgery $1,500,000
Ms. Okafor completed her undergraduate degree at Duke University, where she majored in Public Policy and graduated, with distinction, in History. She completed her law degree at Columbia Law School, where she was a member of the National Black Law Journal, served as a legal clerk in the Consumer Protection department of the Illinois Attorney General's Office, and co-founded Impact2004, a national organization of law students committed to protecting voters' rights.
After graduating from Columbia, Ms. Okafor joined the law firm of Hughes, Hubbard & Reed, LLP, as a litigation associate. At Hughes Hubbard, Ms. Okafor worked on a variety of matters, including mass tort litigation, maritime casualty, antitrust litigation, civil rights protection, international law, Medicare coverage, and copyright infringement. She then joined the 2008 Obama Presidential Campaign as a Voting Rights Attorney and Field Office Manager. In this capacity, she managed the Pahokee, FL field office and educated voters of their rights under the state's new voting system. Ms. Okafor continued researching policy issues and became a post-doctorate fellow at Columbia Law School's National State Attorneys General Program. While there, she researched the constitutionality of health care reform and its effects on individual states, businesses, and citizens.
Despite Ms. Okafor's policy, advocacy, and litigation experience, what she takes pride in are the relationships she builds and sustains with her clients. The litigation process can be long and confusing. By answering any and all questions her clients may have about the status of their respective cases, Ms. Okafor strives to make the process less painful and more transparent. She is devoted to being not only a knowledgeable resource and confidant to her clients, but also a zealous advocate and protector of their interests.
Education
Columbia Law School, 2005
A.B., Duke University, 2002
Jurisdictions Admitted to Practice New York State, 2007
Southern District of New York, 2007
Eastern District of New York, 2007