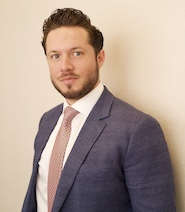 Conor D. Cassidy
Associate
Conor Cassidy is a personal injury attorney who is devoted to helping our clients obtain justice after suffering catastrophic injury. Mr. Cassidy handles all types of cases, including representing victims of childhood sexual abuse, and those involving wrongful death, motor vehicle crashes, medical malpractice, premises liability, labor law, construction injuries, and products liability. He is involved in all stages of our clients' litigation and is passionate about making sure our clients receive full and fair compensation for their injuries. Conor has assisted in numerous cases that have resulted in large verdicts and settlements, including one that resulted in a $59 million verdict for a former high school student who was burned from a chemistry experiment that went wrong in the classroom.
Before joining our firm, Mr. Cassidy attended both Fordham University and New York Law School. At Fordham University's prestigious Gabelli School of Business, Mr. Cassidy focused his education on Finance. While completing his degree, he was also a four-year player on the NCAA Division-1 Fordham Rams Varsity football team as a Wide Receiver. During that time, Conor received Patriot League Academic Honor Roll honors for student-athletes achieving outstanding academic success. Mr. Cassidy applies the character traits he developed in his athletic career to his passion for the law in his pursuit of justice for each and every one of his clients.
Mr. Cassidy joined our firm as an intern during his first year of law school and he has been a crucial part of our law firm ever since he started. During his tenure with Gair, Gair, Conason, Rubinowitz, Bloom, Hershenhorn & Mackauf, the New York State legislature passed the Child Victim's Act, which extended the statute of limitations for personal injury claims of childhood sexual abuse. Conor has become a key member of our team that is spearheading sexual abuse litigation against the predators that victimize children and the institutions that allow it. Mr. Cassidy's strong sense of justice and accountability drives his passion to obtain justice for those who suffered from the individuals who committed these heinous acts and the institutions that fostered them. Conor's work ethic, dedication, and competitive nature make him a fierce advocate for every single one of our clients.
Education
J.D., New York Law School, 2021
B.A., Fordham University Gabelli School of Business, 2018
Professional & Bar Association Memberships
New York State Trial Lawyer Association
Member Since: 2022